Heidegger Looks at the Moon is the latest volume of poetry by RW Haynes, who is well known to us at PLT (Poetry Life & Times), where as well as being Interviewed, his various previous works,
as well his poems have been hosted. Haynes is an individual of many abilities, a scholar of Greek language, he is versed in the Classics, a playright, novelist, a biographer on the Texan Playright Hoorton Foote & poet, he teaches at A&M International University of Texas, Laredo, USA, where he's been a lecturer for the last 30 years in Anglo Saxon Literature, Dramatics in Chaucer, Shakespeare & Ibsen's plays amongst other activities.
It is not surprising, perhaps, that his poetics are in the classicist metric style and form. Almost inevitably, I find, we see, surrupetitiously appearing in verses a tightening of form in Shakespearean vogue. I think he will be the first one to admitt that he is almost in bondage to the sonnet and drawn by the fascination and challenge of being able to render a vast scope of vision into such a compact and condensed form. Also what we learn from Haynes is his overwhelming admiration for theater, but more so for the actual actors who perform theater, he literarily stands in awe and reverence of them as artists in their medium. I mention this because it is reflected, I believe, in his works as a poet, which introduces many varied persona as mediums for his poetic voice. Of course both history and place, he is from the deep south USA, figure extensively in his writing, an example features in his sonnet Downtown Waco. Midnight. Heidegger Looks at the Moon. In it's opening line The Bush Library really ought to be here! Apparently Waco was on the list but it got removed to Dallas 'The loss of the Library was the worst blow to hit the city since the 1953 Waco Tornado killed 114 people' he comments in another text.
I might say that he views as the same conflicts and conditions of the human species over time as intrinsic to their existence, passion, love, hate, grief, despair from antiquity to the present are fundamental in the human make up. And his poems intensifiy in a contemporary idiom and context this phenomena. Having said all that, I would add, that his poems by no means make for easy reading, if the reader believes it can just pick up the volume and flipantly peruse it for a couple of hours and come away gratified, it's in for another think. It is a work that you have to go back to again and again. These are poems that demand you give them attention, that you work at them, because in their own genre, they are masterfully crafted. I personally found in reading them, that just at the moment you feel most comfortable with the verses, stanzas, you are saying to yourself, yes I am with it, what appears to be a harmless snug line tucked away in a stanza rivets you with its complexity and plunges you into new depths, which is what a poem should do, imo.
The very title Heidegger Looks at the Moon, Heidegger is a complex philosopher and Haynes believes that poetry should be philosophical (in this I share his viewpoint) he believes in the etymology of the word Sophia, as the love of wisdom ( a hope, which I would also like to share in). Heidegger thought of humans as linguistic beings, language is the house of being, but he also feared that language could be our own entrapment, that the way we spoke about a certain object or event made it into what it was and also alienated us from what it really is. This of course is a great simplification but I think i could say that his concern was that instead of talking about nature, we end up only talking about ourselves, which prevents us from being activated, acted upon or impacted by anything, which in the end makes us become – the living dead. So accordingly, if philosophy (wisdom) is the task of poetry, it must be to awaken us by the use of poetic language to recover the world which is ours and to which we belong. Haynes poetry in its idiom both ancient and modern, in it's scope and intensity, it's range of variety and mood, in its quest, is perhaps a kindling beacon towards that lost light. Below are three poems selected by the editor from the reviewed work.
HEIDEGGER LOOKS AT THE MOON R. W. HAYNES w w w . f i n i s h i n g l i n e p r e s s . c o m
$ 1 9 . 9 9 / P O E T R Y
Glad to be a Stranger

It is good to be a stranger where society
Reflects like twisted mirrors the solipsistic
Projections of emptiness, grinning foolishly,
Mentally overpowered by the simplistic,
Empowered by gadgets and electricity,
Delighted by dim superficiality.
The lotus-eaters' half-stoned colloquy
Achieves at best a specious affectation
Sustaining complacent juvenility
Inflated greatly by bogus education,
So nothing should make anyone want to be
More familiar in this situation:
Regret is best where mindlessness prevails
And humanity overwhelmingly fails.

Barking and Sparking

Dogs do play politics, but their machinations
Laughably  proclaim their devious conniving
More transparent than the representations
We think necessary for surviving.
Applying, though, proportionality,
Envisioning an abler evaluation
Viewing us likewise, does our acuity
Do us more credit than the canine situation?
Cerberus! Are two heads better than one
When both are empty? Are all fools the same
When all is finally said, or barked, and done
And final justice weighs our praise and blame?
Is the difference between eloquence and barking
A mere matter of a few more neurons sparking

Black Friday in the Texas Thrift Store

The man with the outraged voice
Gripped a black plastic clock
Shaped like a modernist pretzel.
It looked like it had been found behind
A burnt-out garage, after too much time.
"The price is too high," he complained.
"And the time is wrong," I replied,
With more sympathy than intended.
"No, no," he said, "the time is fine.
All it needs is batteries to work.
But just look at the shape of it:
I think it's perfect for time, don't you?"
"Um, yas," I philosophized slowly,
"I see what you mean. Time and pretzels,
You're quite right. But do you think it works?"
He glanced sharply at me. "Of course it works.
The shape is right, the time is right,
It's just the price that's wrong."
"But everything's half off today," I tried,
Not that the honor of the Texas Thrift Store
Mattered greatly to me, but time still does.
"It doesn't matter, does it?" he complained.
"The time is fine, but still the price is wrong."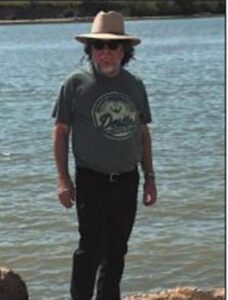 R. W. Haynes, Professor of English at Texas A&M International University, has published poetry in many journals in the United States and in other countries. As an academic scholar, he specializes in British Renaissance literature, and he has also taught extensively in such areas as medieval thought, Southern literature, classical poetry, and writing. Since 1992, he has offered regular graduate and undergraduate courses in Shakespeare, as well as seminars in Ibsen, Chaucer, Spenser, rhetoric, and other topics. In 2004, Haynes met Texas playwright/screenwriter Horton Foote and has since become a leading scholar of that author's remarkable oeuvre, publishing a book on Foote's plays in 2010 and editing a collection of essays on his works in 2016. Haynes also writes plays and fiction. In 2016, he received the SCMLA Poetry Award ($500) at the South Central Modern Language Association Conference In 2019, two collections of his poetry were published, Laredo Light (Cyberwit) and Let the Whales Escape (Finishing Line Press).








Robin Ouzman Hislop is Editor of Poetry Life and Times at Artvilla.com ; You may visit Aquillrelle.com/Author Robin Ouzman Hislop about author & https://poetrylifeandtimes.com See Robin performing his work Performance (University of Leeds)