I drive alongside an 18-wheeler loaded with lambs on their way
to Chuck's Custom Slaughter in Dixon. Halal slaughter welcome.
The lamb's melancholy faces protrude from bars in wooden cages,
as if to plead their case from as they eye-ball every passing motorist
for one more day of roaming in the bucolic pastures called home.
I'll never eat another lamb chop.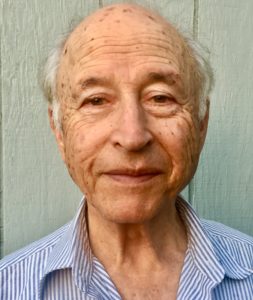 Milton P. Ehrlich, Ph.D. is an 87-year old a psychologist who began writing poems after the age of seventy. He has published many of his poems in periodicals such as the Toronto Quarterly, Wisconsin Review, Mobius, The Chiron Review, Samsara, Blue Collar Review Cartier Street Review, Naugatauk River Review, Taj Mahal Review, Poetica Magazine,Christian Science Monitor and the New York Times..
Robin Ouzman Hislop is Editor of Poetry Life and Times his publications include All the Babble of the Souk and Cartoon Molecules collected poems and Key of Mist the recently published Tesserae translations from Spanish poets Guadalupe Grande and Carmen Crespo visit Aquillrelle.com/Author Robin Ouzman Hislop about author. See Robin performing his work Performance (University of Leeds)