We spent our thunder in East End stagger,
imbibing jellied eels sharked from shadows
underlying Tower Bridge stained Silver Jubilee.
Irish weavers once spilled their angels on those docks;
Leather Apron boiled fetid fog, tempested theists.
You induced me along gashes of geodesic graffiti
enlivening crooked curry houses, inner city chattel,
fidgety railway bridge partitions retailing
kitschy orchards, botanic rainboots
in the shambolic underpass.
In a charismatic kilt and Victorian tourmaline,
I descended brick basement bookshops,
jubilating in the heirloom halo,
thumbprint burning your impassive palm.
Cancan robots, unbaptized bohemian Bentleys
depicted the dilettantish din borderless
throughout enameled back alleys.
Electrified with Rhubarb Sours and feeling alien,
I disoriented your voltage in a biting brasserie
swirling with coriander, chilies, cardamom.
The last time you lost me in Shoreditch,
I was procuring bouquets of Harper's Bazaar,
pocketing hints of old-world Chanel,
lacing Queensbridge Road into my hue.
(Originally published in The Ministry of Poetic Affairs, April 2017)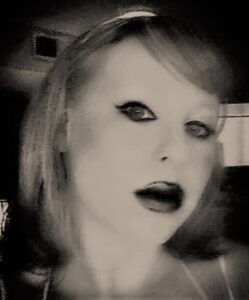 BIO

Megan Denese Mealor is a two-time Pushcart Prize nominee. She has authored three full-length poetry collections: Bipolar Lexicon (Unsolicited Press), Blatherskite (Clare Songbirds), and A Mourning Dove's Wishbone. Her writing has appeared worldwide in such publications as Digital Americana, Gone Lawn, The Furious Gazelle, Maudlin House, and Black Dog Review. Diagnosed with bipolar disorder in her teens, Megan's main mission as a writer is to inspire others feeling stigmatized for their mental health. She lives in Jacksonville, Florida with her husband Tony, son Jesse, who was diagnosed with autism at age three, and their sovereign cats Trigger and Lulu. Megan enjoys astrology, alligator farms, painting, photography, yoga, and volunteering at humane societies and food banks.









Robin Ouzman Hislop is Editor of Poetry Life and Times at Artvilla.com ; his publications include

All the Babble of the Souk , Cartoon Molecules, Next Arrivals and Moon Selected Audio Textual Poems, collected poems, as well as translation of Guadalupe Grande´s La llave de niebla, as Key of Mist and the recently published Tesserae , a translation of Carmen Crespo´s Teselas.

You may visit Aquillrelle.com/Author Robin Ouzman Hislop about author. See Robin performing his work Performance (University of Leeds)