AT HEART, SPEED
At heart, speed is about being where you are going sooner than you can get there, and putting it all behind you. As you race forward to get where you are going, much is dropping behind, falling away from your frontal interest, as it were. If you were as fast as an atom, say, you could probably spin back and pick up some of what you have left behind and so take it with you as you propel forward, wherever that is now—for we have thoroughly muddled the issue in having gone back to pick up what was left behind because in having gone back we have made back forward, forward back. At heart, speed is an attempt to avoid as much as possible until we get to something we may or may not have in mind and stop there, but of course as we arrive there we find that we have just left and are now on our way to something that resembles in its lack of interest to us all that we have attempted to leave behind, so, in a sense, we are going backward, or, we should be going backward, toward what we wanted to get to in the first place. At heart, speed is our heart beating and speeding its beat until it has run out of beats. At heart, then, speed is our heart excitedly beating a trail to its end.
THE MURDER OF GARCIA LORCA
No es sueño la vida.
¡Alerta! ¡Alerta! ¡Alerta!
I tug the strings of my fear, my bad puppet, Diablo, and tap him about this space, my first and last stage, last props, last lights, behind and in front of my painted screen. See, I pull up a leg and he hops, hops, hops! Who are you, Diablo? Herr Hitler, con permiso. Then hop, Hitler, hop! Garcia will be dead when I do this jig under the Arc de Triomphe. Not amusing, Diablo. Be something else. I want light and color! Then look at my gypsy dress, all layered, laced, ribboned, and brocaded—scarlet, gold, and green. Feel the wide wind of my rich fan. Hear my diamonded castanets! When did you put that on? An instant ago, behind the screen, when you were talking. But now I'll be Franco and rise against the Republic. Another ugly joke! But in an instant, true! Just let me don this uniform. I love good fun, but this is wicked. Night must fall, Federico, even if it frightens you. Diablo, I command you, take off that uniform, with its golden shoulder-mops and scrambled eggs and salads. I wish I could drop the reins of your dark horse. Who am I now? Wait, I recognize you. You're a man from my hometown, a granadino. Your name is. . . Diablo! Yes, and I am jealous of your genius. I call you out! I name you Red! Red, red, red! I am a poet. I hate politics. Nevertheless, I charge you, Federico Garcia Lorca, with crimes against the state . . . of my ego. And what now? Bang, bang, you're dead! Am I dead, Diablo? In an unmarked grave! Is it dark, Federico? No darker than this dark century, Diablo.

THE RESPONSIBILITIES OF A MUSE
A muse has responsibilities, too. She owes her worker a few but important debts of honor. If a muse is going to come to an artist, thinker, dancer, or whatever, she owes it to that worker to stay until the job is done, not desert at the first opportunity. She owes him, who has been loyal to her, her loyalty. She owes it to him not to play such tricks as muses are known to play, i.e., not to inspire him with false inspiration, so that his work is false; and she owes it to him to give of herself freely and not to tease him with half measures. Muses are notoriously whimsical, and they must be brought to book on this account. It is high time that they grew up, that they realized they are playing games with someone's life, for an artist's work is his or her life. Muses should be answerable to somebody. They should be compelled to file reports on the progress of their workers at least once a year. Has he taken you up on your offer of an epic? Has she recruited enough dancers for the show? Questions such as these should be posed. Also, have you offered an epic lately? Have you found the requisite number of dancers? Responsibility for the ultimate work must be shared, and shame to the muse who refuses to share. I am calling in all that you owe me, O Muse, a lifetime of suffering in your name.

BADA-BING BONES
A stripper stripped down to her skin, then began to remove her skin by means of a zipper up the back and two more down the backs of the legs. Then she began to remove the muscles, unhooking them from the joints, like springs, and laying them out on the stage. What throbbing music! An old man in the front row fainted. A doctor in the back row called Stop! But the stripper proceeded to strip down to the bone, so that all that was left on the stage was a dancing skeleton. Somebody said it was a trick. But her skull-face called back, Dig it, boys—this is the real thing! Then the stripper snapped some bones out, one of her thighbones, one of her arm bones. A collar bone flew into the air to the sound of a drumroll. She picked up the collar bone, broke it, and shook some marrow from it. Then she called, That's it for tonight, boys. And as the curtains swooped down and closed, she was heard by the audience to order the attendants backstage to gather up her things. Hurry, she was overheard to say, I've got a heavy date.
THE ORBITING X
Hallelujah! saw X twenty-two thousand five-hundred miles off blue Earth, heavenly luminous body, nebulous, long-tailed, fiery Cross, cross Heaven like a comet, airless incandescent meteor-Messiah, whirling Aether, leagues-arcing rainbow-halo of lights, sprites, rolling, rolled into one long-suffering, fragmented Star, returning & returning. The ecumenical others, crew of All Faiths, bound out for the dead red planet, Mars, doubters, saw the Un-identifiable Flying Object, too, but cautioned: a star-cluster, an optical illusion, looking really more like a scimitar, caduceus, fylfot, The Wisdom Tree, a whirling glowing Saucer! Hallelujah! he cried at the infinite night. The links of stars, like bars, crossed everywhere . . . and beyond them, galactic webs, far glittering spiders climbing space. In this vastness, this immensity of lights, his soul seemed unmeterable, or an impertinence imprisoned in endlessness. The others kept bitten-tongued silence in face of this—this what? Vision? Hallucination? Madness? What should they bear witness to? It was too late to abort Mission Mars, too late to turn back. The dead red planet loomed ahead.
Biography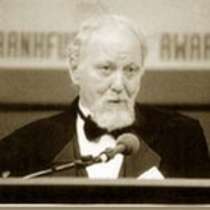 E. M. Schorb attended New York University, where he fell in with a group of actors and became a professional actor. During this time, he attended several top-ranking drama schools, which led to industrial films and eventually into sales and business. He has remained in business on and off ever since, but started writing poetry when he was a teenager and has never stopped. His collection, Time and Fevers, was a 2007 recipient of an Eric Hoffer Award for Excellence in Independent Publishing and also won the "Writer's Digest" Award for Self-Published Books in Poetry. An earlier collection, Murderer's Day, was awarded the Verna Emery Poetry Prize and published by Purdue University Press. Other collections include Reflections in a Doubtful I, The Ideologues, The Journey, Manhattan Spleen: Prose Poems, 50 Poems, and The Poor Boy and Other Poems.
Schorb's work has appeared widely in such journals as The Yale Review, The Southern Review, The Virginia Quarterly Review, The Chicago Review, The Sewanee Review, The American Scholar, and The Hudson Review.
At the Frankfurt Book Fair in 2000, his novel, Paradise Square, was the winner of the Grand Prize for fiction from the International eBook Award Foundation, and later, A Portable Chaos won the Eric Hoffer Award for Fiction in 2004.
Schorb has received fellowships from the Provincetown Fine Arts Work Center and the North Carolina Arts Council; grants from the Ludwig Vogelstein Foundation, the Carnegie Fund, Robert Rauschenberg & Change, Inc. (for drawings), and The Dramatists Guild, among others. He is a member of the Academy of American Poets, and the Poetry Society of America.
PRIZE-WINNING BOOKS
BY E.M. SCHORB
Books available at Amazon.com
_______________________________________
Dates and Dreams, Writer's Digest International Self-
Published Book Award for Poetry, First Prize
Paradise Square, International eBook Award
Foundation, Grand Prize, Fiction, Frankfurt Book Fair
A Portable Chaos, The Eric Hoffer Award for Fiction,
First Prize
Murderer's Day, Verna Emery Poetry Prize, Purdue
University Press
Time and Fevers, The Eric Hoffer Award for Poetry
and Writer's Digest International Self-Published Book
Award for Poetry, each First Prize

visit www.emschorb.com.