Mrs. Alving Contemplates Her Nipples

Hedonism governs men, or simple greed
Deludes them always, so these masculine minds
Delight in lies that their convenience finds
So that for them there's nothing true indeed.
If the lies are just nature's just excretions,
Or by-products of heated oxidation,
I see their value as no more than negation
A healthy memory turns into deletions.
Lusty dudes, braggarts, loud buffoons,
Imploring forgiveness, tender sacrifice,
Though only my surrender will suffice,
I scorn your swaggering, you groveling baboons.
"Mommy! Mommy! Mommy!" These babies cry.
My nipples are mine now. Big babies, good-bye.

Like Epictetus on Mushrooms 

If Fortune turns its face toward the sun 
Whose light takes eight minutes to arrive, 
Then I put aside impatience to revive 
Fortitude in hope when day is done 
My sputtering candle may be noted then 
For what it's worth, although its little light 
Took sixty years of travel through the night 
To let its fitful illumination begin. 
Duty is useless if no mark is made, 
And if the light should vanish, be unseen, 
As the Spartan said, I'll fight then in the shade, 
Divested of incumbrance, darkly serene. 
Take your insincere sympathies, then, 
And stick them all elsewhere, all the way in. 

Another Ha Ha Chuckle for the Blessing of Rest

She thought light would leak on all
True dilemmas, personal honor, life or limb,
What to cook, what to hide from him,
And when she saw some ominous shadow fall
She knew to relish inevitability
Like an old stone statue staring in a tomb,
Silently satisfied in that silent room,
Mutely assimilating shadows she could see.
"My poetry will get you," she wanted to smile,
"My syllabic dynamite, my shapely lines
Of harmony, tangled like wise vines,
Must stack all being in an elegant pile.
But you, O Diogenes, what you are after
Provokes no more than a brief fit of laughter."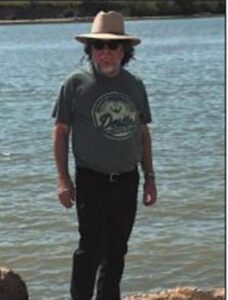 R. W. Haynes, Professor of English at Texas A&M International University, has published poetry in many journals in the United States and in other countries. As an academic scholar, he specializes in British Renaissance literature, and he has also taught extensively in such areas as medieval thought, Southern literature, classical poetry, and writing. Since 1992, he has offered regular graduate and undergraduate courses in Shakespeare, as well as seminars in Ibsen, Chaucer, Spenser, rhetoric, and other topics. In 2004, Haynes met Texas playwright/screenwriter Horton Foote and has since become a leading scholar of that author's remarkable oeuvre, publishing a book on Foote's plays in 2010 and editing a collection of essays on his works in 2016. Haynes also writes plays and fiction. In 2016, he received the SCMLA Poetry Award ($500) at the South Central Modern Language Association Conference In 2019, two collections of his poetry were published, Laredo Light (Cyberwit) and Let the Whales Escape (Finishing Line Press).








Robin Ouzman Hislop is Editor of Poetry Life and Times at Artvilla.com ; You may visit Aquillrelle.com/Author Robin Ouzman Hislop about author & https://poetrylifeandtimes.com See Robin performing his work Performance (University of Leeds)