The world seems to have turned a corner and suddenly there
Is a glint at the end of this longest tunnel down which life has
Taken a turn. News came today that the stock market is back
Up meaning the rich are back to getting richer and with all the
Headlines here consumed on one bit of news, our PM is now in
ICU, the real story is ignored as figures in general society are
Finally falling.

Right now though no one in our media cares as they all talk of
His fighting bulldog spirit and how he'll battle on through just
Like they saw him on the rugby fields of Eton more than forty
Years before. He's super-fit I heard one tory hack-minister claim
Before the interviewer managed to ask about his body-mass
Equating a case of obesity but 'oh no, he runs, he exercises every
Day and barely drinks' he claimed.

So now out there people continue to teem around the streets
Carrying on with their lives as if everything is normal and then
There are those who've decided they want to do something
About it. David Icke announces the burgeoning 5G masts are
Responsible for all this horror and the next thing we know they
Are being destroyed and whilst I think his theories mad it does
Offer a question.

Where did this come from and why did it happen? Well, in
Years, maybe decades to come, the truth will doubtless come
Out and practically no one will notice as it'll just be a footnote
In a history book by then but I can guarantee you one thing, it
Weren't the 5G masts that caused this as to this mind it seems
More like an exercise in control, seeing just how far they could
Push us, telling us what to do and how to live this life that grew
Just a little out of control.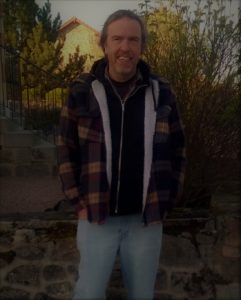 BIOGRAPHY


Bradford Middleton was born in south-east London during the summer of 1971 and won his first poetry prize at the age of nine. He then gave up writing poems for nearly twenty-five years and it wasn't until he landed in Brighton, knowing no one and having no money, that he began again. Ten years later and he's been lucky enough to have had a few chapbooks published including a new one from Analog Submission Press entitled 'Flying through this Life like a Bottle Battling Gravity', his debut from Crisis Chronicles Press (Ohio, USA) and his second effort for Holy & Intoxicated Press (Hastings, UK). He has read around the UK at various bars, venues and festivals and is always keen to get out and read to new crowds. His poetry has also been or will be published shortly in the Chiron Review, Zygote in my Coffee, Section 8, Razur Cuts, Paper & Ink, Grandma Moses 'Poet to Notice', Empty Mirror, Midnight Lane Gallery, Bareback Lit and is a Contributing Poet over at the wonderful Mad Swirl. If you like what you've read go send a friend request on facebook to bradfordmiddleton1.






Robin Ouzman Hislop is Editor of Poetry Life and Times at Artvilla.com ; his publications include

All the Babble of the Souk , Cartoon Molecules, Next Arrivals and Moon Selected Audio Textual Poems, collected poems, as well as translation of Guadalupe Grande´s La llave de niebla, as Key of Mist and the recently published Tesserae , a translation of Carmen Crespo´s Teselas.

You may visit Aquillrelle.com/Author Robin Ouzman Hislop about author. See Robin performing his work Performance (University of Leeds)