Editor's note: check the icons on the YouTube Videos to read texts



Green under siege
efficient blowing that pushed me to an end
of simultaneous lips
of seasons of perfected assonance

Now around a hiding sun
A brown agony

Scaffolding
made of arteries
transporting gravity to the top

The fall of the Roman Empire
Or the British
was harsher
but not neater.

When you try through your rustling
to talk to me about the time
that I set to you with my steps,
I find it very sweet and useless.

Why does your voice follow me,
but you stay behind stranded?

How can a loop be so straight?

What are you, but a new form of life
a sign
that defeat in the Natural World is always relative?

Today, you are masking the ground
where I keep dragging my roots
in contempt for the fallen.

And
despite the appearances
I still live
in a constant state of fascination


Fascinación de otoño



Un cerco fijado en torno al verdor,
efectivo soplo que me empuja a un fin
de labios simultáneos,
de estaciones que corrigen asonancia

Agonía marrón

Arterias como andamios
que transportan
la gravedad a lo alto

Más dura fue
la Caída del Imperio Romano
o del británico,
pero no más limpia.

Cuando intentas con tus chasquidos
hablarme tú
del tiempo que yo te marco
con mis pisadas,
me parece todo tan dulce e inútil.

Dime por qué me sigue tu voz
si tú te vas quedando atrás.
¿Cómo puede un bucle ser tan recto?

¿Qué eres,
sino una nueva forma de vida,
una señal
de que la derrota en el Mundo Natural
es siempre,
siempre, relativa?

En días como este,
enmascaras la tierra
por la que arrastro
con orgullo
mis raíces.

En fin,
a pesar de las apariencias,
continúo viviendo
en un estado constante de fascinación.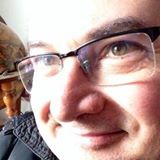 Antonio Martínez Arboleda:
Antonio (Tony Martin-Woods) started to write poetry for the public in 2012, at the age of 43, driven by his political indignation. That same year he also set in motion Poesía Indignada, an online publication of political poetry. He runs the poetry evening Transforming with Poetry at Inkwell, in Leeds, and collaborates with 100 Thousands Poets for Change 100tpc.org/. Tony is also known in the UK for his work as an academic and educator under his real-life name, Antonio Martínez Arboleda at the University of Leeds. His project of digitisation of poetry, Ártemis, compiles more than 100 high quality videos of Spanish poets and other Open Educational Resources. http://www.artemispoesia.com/ .
He is the delegate in the UK of Crátera Revista de Crítica y Poesía Contemporánea , where he also publishes his work as translator from English into Spanish. He published his first volume of poetry in Spanish, Los viajes de Diosa (The Travels of Goddess), in 2015, as a response to the Great Recession, particularly in Spain. His second book, Goddess Summons the Nation Paperback , Goddess Summons the Nation Kindle Edition , is a critique of the ideas of nation and capitalism, mainly in the British Brexit context. It incorporates voices of culprits, victims and heroes with mordacity and rhythm. It consists of 21 poems, 18 of which are originally written in English, available in print and kindle in Amazon and other platforms. Editor's note: further information bio & academic activities can be found at this link: https://ahc.leeds.ac.uk/languages/staff/91/antonio-martinez-arboleda








Robin Ouzman Hislop is Editor of Poetry Life and Times at Artvilla.com ; his publications include

All the Babble of the Souk , Cartoon Molecules, Next Arrivals and Moon Selected Audio Textual Poems, collected poems, as well as translation of Guadalupe Grande´s La llave de niebla, as Key of Mist and the recently published Tesserae , a translation of Carmen Crespo´s Teselas.

You may visit Aquillrelle.com/Author Robin Ouzman Hislop about author. See Robin performing his work Performance (University of Leeds)