It's 2:30 am, pacing on the terrace:
I see me ricochet against the edge
of an open window on the fourth floor.
I feel a strange numbness: a speck of ash
scatters, the end left to fall:
tumble and swing in mid air.
There's no spark as the stub hits the ground.
I begin each day at 7:00 am
somewhere near the spot
where the stub hit the ground.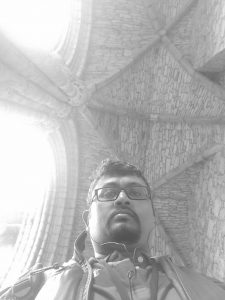 Debashish is a machine learning scientist, who has been published in literary magazines several times across the globe, including Poetry Life & Times, where he was interviewed twice. He is currently contending with a severe writer's block spanning a decade, when he has hardly produced any publishable content. He is also losing emotional connection with his own work gradually, and spends more time to edit/tighten his old poems than creating any new content. Editors Note: Debashish Haar was interviewed twice in the old Poetry Life and Times, once by Sarah Russell then Editor & later by myself as a new Editor before it folded in 2008. The New Poetry Life & Times restarted in 2013 at Artvilla.com site, Admin David Jackson.






Robin Ouzman Hislop is Editor of Poetry Life and Times his publications include All the Babble of the Souk and Cartoon Molecules collected poems and Key of Mist the recently published Tesserae translations from Spanish poets Guadalupe Grande and Carmen Crespo visit Aquillrelle.com/Author Robin Ouzman Hislop about author. See Robin performing his work Performance (University of Leeds) and his latest Collected Poems Volume at Next-Arrivals