First issued in Lady Vancouver, 9 poems by Joe Ruggier, (1997), A little girl of long ago was re-issued in Lamplighter most Gracious, col­lected poems and selected prose, (1972-2009), in the original length of 2 pages — now expanded to 7. Baude­laire's version of pacts with Satan con­ceals wicked humour directed against the hypoc­risy of So­ciety. The critics let him get away with it because it is both humorous and candid. The Devil is far more sensitive than human beings, to the Arts and to the insult he suffers: it is equally true that he is converting. You do not have a right to snap with an insult as you please not even a poor devil. You are not an Angel so privileged. The only pur­pose of this Author's ver­sion of a pact with a devil is Salvation. His intentions are not even as tendentious as Baude­laire. All he is asking is that readers will judge him with an open mind and let him get away with it as the critics allow Baudelaire.
A little girl of long ago
a testament for True Religion, old and new
 A Wise Man sat upon the Seat of Honour
  in ancient China, and said unto His Daughter:
"I love you much, Beloved, heed what I say!
Know that before your birth I knew about thee,
that you have lived before and I have read
your work which in your last existence flourished,
and I, thy Padre, loved your terrible beauty,
the divinity concealed in your sorrowing spirit.
Knew also of your tragic end and how,
as a good Man sayeth to me, you went
down to the shades below, which made me weep,
My Love, tears that I would weep had my
own little child been lost. Heed what I say!
A little child thou art but you can read,
and when this book which earnt me fame I wrote
to celebrate my marriage vow, I said
these words to thee alone with all my heart,
though you forgotten were. In your spiritual
ear I whispered aery verse the lines
of which concealed my grief and secret love
and with my verse I tempted thee and made
with thee a pact that you my daughter shall
become and may one day rejoice as you
deserve, Thou beautiful, tragic, troubled spirit —
the only poor devil I ever made a pact with —
and never said unto a single soul
a single word within my bosom buried!
Know then, my little one, you're old and wise
enough to be your mother's Blessed Mother!
Let no one then teach you, my troubled Queen,
facts of your life which with my faltering verse
I have said unto you far better than
your teachers can.
 From years before Thy birth
 I felt for Thy misfortune sorrow intense
and painful, flesh torn from My flesh, without
relief from pain. I ask of Thee a favour:
feel for Thyself the pity and the sorrow
that I felt for Thee. Admire the beauty of
such overpowering, tragic pathos —
but save Thy dear Soul: Salvation is
egoism as God wanteth, Damnation not.
Love and untold riches shall be Thy portion
for bearing with Me the most cruel insult.
I am reborn just as Thou art. Kirin 's
Incarnation is Kirin 's Reincarnation.
He and His Mother chose each other just
like Me and Thee. I was choked and knowing not
how best to say it! I am poor as Lazarus,
but Thy reward is the Honour of Thy dreams —
a gift of beautiful imagination
to bring Thee Joy in Solitude, whenever
Thy Honour shall flash upon Thy inward eye —
and being a Genius at school, as Padre was.
The time shall come when I shall make Thee rich:
for suffering with Me the cruel insult
You deserve the Jackpot!
 Beloved Daughter, know
 that I have chosen Thee out of a Book
just as the great Kirin did choose His Mother,
two poor devils who could not be consoled
without each other! Were they not all of them
little children once upon a time?
no guile? nor malice in their eyes? misled
by the World? by untold temptations scatter'd?
by fast ones led away to endless ruin?
Thy brows with roses red forever crown'd,
I declare herewith the Reincarnation of
poor souls in need a dogma of the Faith
which with My Sacred Heart inscribe on Thine,
high, divine Priestess of future Culture,
around Whose Honour all the Creeds of Earth
have been united in one common effort
to win Mercy for all Mankind, though lost
throughout the Centuries — born again Christians
as Buddhists teach and Hindus, and the great
Confucius, through a dogma of Rebirth
as majestic as of Resurrection!
God loves dearly the faithful of old Religion
who live Its mourning and mortification
without making anyone insults too great to bear.
They did to Me, and I deserve truer Religion.
True Religion is pregnant with new Religion,
and new Religion calls all Mankind to Mercy —
save a fiend to win Thyself God's Mercy!
Unless We have Compassion on the damned
nobody shall, and We may still be lost
and in despairing need for such a Miracle,
and no one heed Our hoarse, despairing cry,
and no one have Compassion on Us either.
To save Thy Soul save a poor devil, such as
Thou art; Thou art not Angel so privileged!
God may still abolish Hell forever. Instead
He may establish the Reincarnation of
poor souls in need as the alternative,
postpone the Judgment through a Faith like Plato's,
and charge, perhaps, the bill for many lives,
demanding pact and truth of countless lovers —
just one more way of saying: "Purgatory!"
To say once more that God is not a sadist!
What do some Humans think they are? — to feel
so privileged, though they be not, as to make
some others demons just because their Padre,
because He loves them, gives them second birth,
because He wishes them a second chance?
Do not fear, gentle Daughter, I boast
a history just like Thine, and I accept
the Judgment with Thee in writing. Repent of all
the faults of Thy past Life. Real Glory
lieth in freedom from the cycle of
Rebirth. Pray for Salvation only. Pray
for Resurrection. Rebirth is but a Purgatory,
which God allows the worthy for real reasons only!
Only the wicked do not acknowledge Hell:
we must, if Truth, affirm its Truth! Rebirth
is but a viable alternative
for all poor Souls who need rehabilitation:
God is not a sadist! We all implore Him
to consider this well-made suggestion … that all
may be allowed to earn Salvation, proving
to God Himself how merciful they are!
No living Man or Woman is owned by Demons.
Let all Mankind take turns, with works of Art,
and with their Love, to save poor souls in need,
and save them well, one fiend at a time!
Old Faith and New vaunt equal power to save you:
God respects entirely your freedom to Choose!
Call it Thy own pro-choice Philosophy —
You have a right to choose the Child You bear,
but You must love and cure Her as I did,
or 'twill be worse twice over for that poor Devil!
Prescribe Your wish to God Himself in prayer,
allowing God to offer You the Choice!
Be good to Thy poor devil. Devils care
for works of Art. They shall prove sensitive
to Thy creations, concerned as these should be
with the harsh blow They suffer. Help Them bear
Their insult with a well-intended honour,
to save their face and show them that You care —
and Thy reward shall be Salvation, Thine Own
and all You love, for all of Whom Thou shalt
win Mercy. Thou shalt become a beautiful
Artist, as Thy recompense for boasting heartfelt
Mercy, and shalt be paid with money made
of silver, gold, jewels and precious stones!
I have no evidence but intimations.
Throughout My sixty years, since early childhood,
My recollections brought Me but one Story.
I was a Poet in My native tongue,
most minor, though I took pride I was the first
to grace with verse My language. All My life
My Aunt encouraged Me, and I believed her
because I loved her — Conchita was her name.
But I lay dying and I told My Aunt:
"Surely You will give Me the honour, when
I'm gone, just as You did in Life!" She said:
"Do you not know how musical, how complex
the foreigner's Art all is? What theories It
conceals between the lines? How can I give
the Honour to a Poet such as You?
John Anthony? You are too small for words!" It was
the Gospel Truth: John Anthony was most minor —
but all she did was to revenge herself
and stoke Me in My dying minute! She should
have left Me up to God — Who doth not hate Me!
I did not die well and I lost My Soul,
galled and bedeviled in My dying Hour,
and told the Gospel Truth with wrong intent,
but still recall Kirin , gently talking
to Me in Hell: "You suffered a gross injustice,
John Anthony, and I shall give Thee birth again.
I shall make Thee a Poet famous with
the foreigner, writing in another tongue —
a chance to save Thy Face and make the point
that Thou art capable, not as Auntie said!
protecting Thee from false compliments like hers!
Beware the Falsehood of parading as
great Artist if Thou be not the real thing!"
Though I was born again, incarnate just
like God, though but a poor, defenceless Babe,
My memories all fled and wiped out clear,
by Recollection of past Life deserted …
the Priests laughed up their sleeves at Me, saying:
"There is no other God but God, nor any
other true Religion except for Ours,
which states Reincarnation is not true,
and therefore We baptize this Child a fool,
and in top secrecy murdering his daemon,
and hold him up to scorn with aftertime
for claiming Reincarnation as his door to Fame!"
Figlia, Kirin's Secret and His Beata Madre's
hath blossomed in Our Heart like a blossoming Flower.
My Cause and Thine is just as any Priest's:
a Man and a Woman deserve truer Religion –
their true Religion is bust who with true Religion
can only bust us! Scoundrels who, neither Saints
nor Artists, neither here nor there, still love
to dominate and lay it down as if
they were Church Doctors — but their skull is thick
and heart not tender: their true Religion alone
is beyond criticism, and any other
enjoys no sense in which it is true also!
Figlia, I was healing — with Thee against
My Heart, but Thou wert snatched out of My arms!
Figlia, a Woman has no right to fight
the Man who loves Her for their mutual Honour:
either You love Your Man sincerely, and He
shall honour You, or You may be sent packing
where Kirin Himself in Your past Life did send You!
 Figlia, the pact We made was crystal clear:
Thy Padre went to Hell to bring Thee back
upon His shoulders, on condition only
that Thou wilt save Thy Soul. He doth not wish
to go to Hell for Thee again. Salvation
is in good taste, but not Damnation. If
Thou wilt not save Thy Soul, We shall both lose
the argument, a pact with Satan gone sour
and not Our way, and Thou shalt but incur
Thy sorrowing, heartbroken Father's deadly Wrath!
Know also, Thou tragic, sorrowing, troubled Spirit,
discussing facts of life is then for Thee
forbidden fruit, for in such trivial truths
much lying is and all things seem, and many
little ones like Thee have gone astray
by fast ones lost and slain, and been denied
the beautiful Sun, the terrible claire de la Lune,
and starlight shedding balm on secret Love,
by trivial truth incullionated. Forget it then,
My Beautiful! Touch not forbidden fruit!
Be happy with what you know and seek no more
save for the useful skills you learn at school;
and keep thy word same as thy Father did!
The eyes of little children, my Beloved:
the art-show there is all I wish to see –
Lady Aphrodite born from the Ocean;
professor visiting del al di là!
Drink of the good Honour which I have given,
My little one, whom I have given fame
for ever for the effect We both produced!
We were but two poor demons, but are not
the Bastard's property, to snap in two
with insults as He pleases, though He was never
Angel so privileged! True though it may be
I was a poor devil, confounded in My thoughts,
I prayed with You and felt Compassion, and prayed
for Your Salvation: I was never ever
the real Satan! You are such a poor devil —
with a straight face, lecteur, which God Himself
gives All, that They may not be caught as long
as They admit! If anyone feels the need
to take revenge, let him pray to Saint Michael,
Whose privilege it is! Thy Padre wishes only
to give Thee Honour like the Queen of Heaven's,
unique and unrepeatable with God's Secret,
like Hers, but different from Hers. Strew on her
roses, roses, and never a spray of yew!
Woman I chose out of a Book: "salve
alla Regina vestita con il Sole!"
Thee and Thy Padre shall dine at Journey's End
with Kirin and with His Madre, with a just revengaunce
upon the prime foundation of Heaven and Hell.
Copyright © Joe M Ruggier
26th February 1997 – 26th September 2013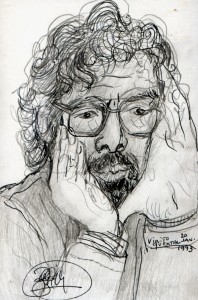 Copyright © Joe M Ruggier 11th September 2000
portrait of Joe Ruggier executed by Vancouverite visual artist Virginia Quental (born in Brazil)
Joe M. Ruggier was born in Malta in 1956 and has written and published poetry in both Maltese and English.  He currently resides in Richmond, British Columbia, where he manages a small press, Multicultural Books.  Multicultural Books publishes poetry, poetry leaflets, sound recordings, fiction and literary fiction.
Joe Ruggier has sold over 20,000 books, many of them door-to-door, including over 10,000 books he wrote and published himself.  There are over 5,700 copies in print of his book Out of Blue Nothing.  Information on Joe M. Ruggier's books, cassettes and poetry journal:
Intelligible Mystery (1985)
Out of Blue Nothing (1985) ISBN 0-9694933-0-4
The Voice of the Millions (1988)
In the Suburbs of Europe (1991)
Moods for Lovers (1993 ) Cassette
This Eternal Hubbub (1995)
regrets hopes regards and prayers … (1996)
Lady Vancouver (1997)
A Richer Blessing (1999 ) ISBN 0-9681948-3-4
The Poetry of George Borg Translated from the Maltese by Joe M. Ruggier (2000)
The Eclectic Muse, a poetry journal edited by Joe M. Ruggier
To order any of the above, please write or call first for availability and prices.  Please make checks payable to Joe Ruggier.
Multicultural Books
Suite 307
6311 Gilbert Road
Richmond, B.C., Canada V7C 3V7
Telephone:  (604) 277-3864
The Eclectic Muse
Managing Editor
Joe M. Ruggier

Board of Academic Consultants
Professor LeRoy D. Travis
S. Warren Stevenson (Professor Emeritus, UBC)

"There are many mansions in Parnassus!"
The Eclectic Muse has published poets and writers from Canada, Malta, the United Kingdom, the United States, and elsewhere. The Eclectic Muse publishes poetry and prose of various styles, but always reflects the passion of its Managing Editor, the acclaimed poet, essayist and critic Joe M. Ruggier. Mr. Ruggier's passion is for poetry that sings and moves, for poetry that embraces rather than denies or defies the traditions of English poetry. If you believe as he does–that there is a revival of traditional poetry, and that the world is better place for it–we think you'll find The Eclectic Muse well worth the price of a subscription.
***
www.facebook.com/PoetryLifeTimes