It was a play,
A simple manipulation,
When your fingers ran parallel-
Crosswise
Or lengthwise,
And you created a loop.
But it was not a play,
Only a manipulation,
When your fingers ran parallel-
Crosswise
And lengthwise
And you suspended yourself
Into that loop.
As a child, I know mother that-
Now
you
Are                         Not
living.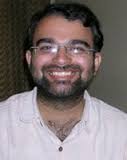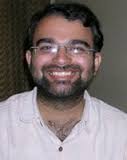 Amitabh Vikram Dwivedi is assistant professor of linguistics at Shri Mata Vaishno Devi University, India. His research interests include language documentation, writing descriptive grammars, and the preservation of rare and endangered languages in South Asia. He has contributed articles to many Science Citation Index journals.
His most recent books are A Grammar of Hadoti (Lincom: Munich, 2012), A Grammar of Bhadarwahi (Lincom: Munich, 2013), and a poetry collection titled Chinaar kaa Sukhaa Pattaa (2015) in Hindi.
As a poet, he has published more than 100 poems in different anthologies, journals and magazines worldwide. Until recently, his poem "Mother" has been published as a prologue to Motherhood and War: International Perspectives (Eds.), Palgrave Macmillan Press. 2014.


www.facebook.com/PoetryLifeTimes
www.facebook.com/Artvilla.com
robin@artvilla.com
editor@artvilla.com


Key of Mist. Guadalupe Grande.Translated.Amparo Arróspide.Robin Ouzman Hislop

goodreads.com/author/show/Robin Ouzman Hislop
http://www.aquillrelle.com/authorrobin.htm
http://www.amazon.com. All the Babble of the Souk. Robin Ouzman Hislop
www.lulu.com. All the Babble of the Souk. Robin Ouzman Hislop
https://www.amazon.com/author/robinouzmanhislop
http://www.innerchildpress.com/robin-ouzman-hislop.All the Babble of the Souk