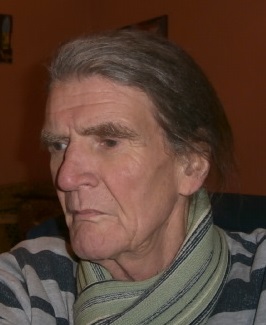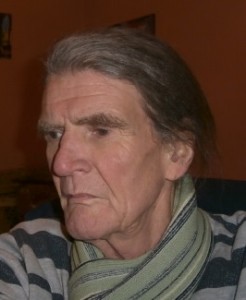 This tumble down day of tears and clay.
And though stood still, I do not stand in awe
At the world's throng of life given over,
As I gaze across black hills rolling grey
Turbulent clouds on the darkening land
Reaching the peninsula of my eye,
its sudden scene, its solitary strand,
My thoughts of time, existence, shadow, myth.

By myth we've become a shrouded life's lie.
Prisoners we've fled before from what we are,
Conscious of being conscious, language & death.

But we know not more of self and choice, our
Law has contained us in our right to life,
As monstrous now as the world before us.



Robin Ouzman Hislop Editor of the 12 year running on line monthly poetry journal Poetry Life & Times. (See also its Wikipedia entry at Poetry Life and Times). He has made many appearances over the last years in the quarterly journals Canadian Zen Haiku, including In the Spotlight Winter 2010 & Sonnetto Poesia. Previously published in international magazines, his recent publications include Voices without Borders Volume 1 (USA), Cold Mountain Review, Appalachian University N Carolina, Post Hoc installed at Bank Street Arts Centre, Sheffield (UK), Uroborus Journal, 2011-2012 (Sheffield, UK), The Poetic Bond II & 111, available at The Poetic Bond and Phoenix Rising from the Ashes a recently published Anthology of Sonnets: Phoenix Rising from the Ashes. He has recently completed a volume of poetry, The World at Large, for future publication. He is currently resident in Spain engaged in poetry translation projects.


robin@artvilla.com
PoetryLifeTimes
Poetry Life & Times
editor@artvilla.com
www.artvilla.com
Artvilla.com