To Purusha, The Little Homunculus in My Hand/Heart
My left hand is the holder. Mascara
tube, apple on the cutting
board, paper while my right
hand writes. 
            A buttress. 	
                       Not strong

but not weak, either. My left hand holds
a palmful of peace. The velvet 
pouch of small rocks      
                        smoothed 
by ancient waters, rubbed 

between thumb 
and forefinger.        Aaaaah. 
Or the bottle of pills to unclench
my gut. Lines overlay

veins overlay muscles 
overlay bones. A palmful 
of bones, held out
in supplication, in valor, in terrible

loneliness, delicate 
and powerful as the pale 
wing of a dove seeking 
a place to finally rest.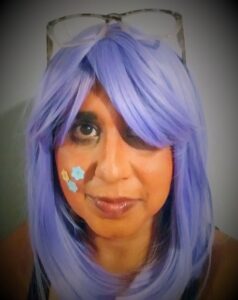 Kalpita Pathak is an autistic poet, novelist, and advocate with a passion for research and sensory-rich details. Her work tends to explore the perseverance of hope in a sometimes despairing world, with a little dark humor and magic added to the mix. She received the James Michener Fellowship for her MFA in creative writing and has taught at both the college level and in school programs for kids from three to eighteen. She has recently been published in Mediterranean Poetry.  
Robin Ouzman Hislop is Editor of Poetry Life and Times at Artvilla.com ; You may visit Aquillrelle.com/Author Robin Ouzman Hislop about author & https://poetrylifeandtimes.com See Robin performing his work Performance (University of Leeds)