The homestead El Caserio i Bizkerre lodged upon the wall
has a large gable's end symmetry, slightly
skew whiff in the canvass that encompasses it. I wonder if
she's painted herself from within to without
Where she stands now, a cut out dark silhouette, on a patch
before the facade of splotches, daubs of windows
doors, heraldry shields, terraces, hatches. Two doors, right side
sharp, left a blur but can i enter, what will i see
She knows she's concealed from me?
what will i find, dusty jars, a winding stairway, creaking
floorboards, a chest of drawers, which i will open
to secret treasures, but no, i am without with her dark silhouette.


What is that luminous blob suspended above
her head by almost invisible silvery strands of arms embedding it?
All in the foreground, the sharp, the blur, paths
to each door, blotches of rockery, smudged plants, dollops


Of green lawn. Overhead, a red angle roof, in the sharp, crows
swarm in a blue sky, where it blurs, branches
stretch to entangle, notch the gable corner in weird distortion.
Beside this painting is another, a naked Madonna
A faceless oval she kneels, arms clasped behind her sleek black
parted hair, her armpits bared to reveal the taut
of her breasts, her curves in orange & gold dust.
Is it she who waits behind these doors?
When night falls the sea is a distant death
is The Bed that is a Tree hewn from the stump
of an olive tree, drilled as a bed
post, as a mould for the rest, around which the chamber


Was built, waiting for us to enter?
She is more beautiful than her painter & we know it
but perhaps if we enter together
the splashes of paint will be softer than our creaking bones.


* In Bed. Italics. The Bed that is a Tree. Kim Lansky. Italics. The Odyssy. Book xxxiiv.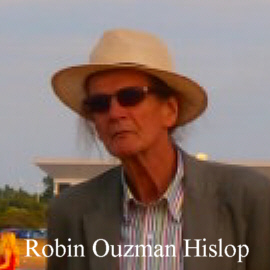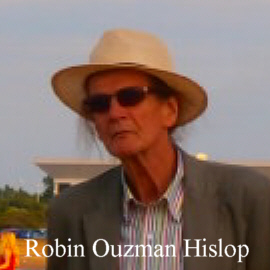 Robin Ouzman Hislop, born UK, a reader in philosophy & religions, has travelled extensively throughout his lifetime but now lives in semi- retirement as a TEFL teacher and translator in Spain & the UK.

Robin was editor of the 12 year running on-line monthly poetry journal Poetry Life and Times. In 2013 he joined with Dave Jackson as co-editor at Artvilla.com, where he presently edits Poetry Life & Times, Artvilla.com, Motherbird.com.

He's been previously published in a variety of international magazines, later publications including Voices without Borders Volume 1 (USA), Cold Mountain Review (Appalachian University, N. Carolina), The Poetic Bond Volumes (thepoeticbond.com) and Phoenix Rising from the Ashes (a recently published international Anthology of Sonnets). His last publication is a volume of collected poems All the Babble of the Souk available at all main online tributaries

www.facebook.com/PoetryLifeTimes
www.facebook.com/Artvilla.com
robin@artvilla.com
editor@artvilla.com

goodreads.com/author/show/Robin Ouzman Hislop
http://www.aquillrelle.com/authorrobin.htm
http://www.amazon.com. All the Babble of the Souk. Robin Ouzman Hislop
www.lulu.com. All the Babble of the Souk. Robin Ouzman Hislop
https://www.amazon.com/author/robinouzmanhislop
http://www.innerchildpress.com/robin-ouzman-hislop.All the Babble of the Souk