Animals programmed to kill:

Some demand entertainment
to appease the flames
of their DNA,
which they try to bypass
through consciousness
or convenience.

Others simply survive
without questioning their appetites
(They make great TV in their chase and struggle).

Meanwhile
the veggie rest
distil the fluids
of their neighbours:

A chain of convivial parasites.

And all this happening
in a Cosmos with lamps
that come and go
without rehearsal,
like the lights of the ceiling of a disco,

a Cosmos that keeps shifting
energy and mass
without remorse,
like accountants play with figures

The absent Developer
sated his thirst for creativity
in only six days,
leaving behind
a beautiful,
ugly,
random,
orderly,
bloody,
dusty,
tender,
holly rocky Mess.

His desk is covered by mountains
of meaningless,
timeless paperwork.

If Intelligence is just artificial,
what is then Faith?

Customer Services are down.

Don't settle for evolution.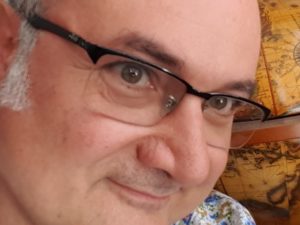 www.leeds.ac.uk/arts/people/Spanish Portuguese and_Latin American Studies/Antonio Martinez Arboleda

Antonio Martínez Arboleda:
Tony Martin-Woods started to write poetry for the public in 2012, at the age of 43, driven by his political indignation. That same year he also set in motion Poesía Indignada, an online publication of political poetry. He runs the poetry evening Transforming with Poetry at Inkwell, in Leeds, and collaborates with 100 Thousands Poets for Change. Tony is also known in the UK for his work as an academic and educator under his real-life name, Antonio Martínez Arboleda. His project of digitisation of poetry, Ártemis, compiles more than 100 high quality videos of Spanish poets and other Open Educational Resources. http://www.artemispoesia.com/. He is the delegate in the UK of Crátera Revista de Críticay Poesía Contemporánea , where he also publishes his work as translator from English into Spanish. He published his first volume of poetry in Spanish, Los viajes de Diosa (The Travels of Goddess), in 2015, as a response to the Great Recession, particularly in Spain. His second book, Goddess Summons The Nation, is a critique of the ideas of nation and capitalism, mainly in the British Brexit context. It incorporates voices of culprits, victims and heroes with mordacity and rhythm. It consists of 21 poems, 18 of which are originally written in English. It is available in print and kindle in Amazon and other platforms.



Robin Ouzman Hislop is Editor of Poetry Life and Times his publications include All the Babble of the Souk and Cartoon Molecules collected poems and Key of Mist the recently published Tesserae translations from Spanish poets Guadalupe Grande and Carmen Crespo visit Aquillrelle.com/Author Robin Ouzman Hislop about author. See Robin performing his work Performance (University of Leeds)