I thank you today for this gift of food. This, was another child of yours. Abel Abel Abel. An intelligent bird. A member in its dumb chain of life, family: what is family to that insentient mass? Do they mourn when one of them is gone? Does it affect them, does it bother them, does it pain them, 

As it does to us? Yes, we, the great golden yardstick against which to measure out the universe.  Dumb, may be, but dumb life with a heart. Who knows about the soul. Isn't soul that little pin-prick somewhere deep in the heart? Do I have one? Do I care, do I mourn, do I see the pain that I cause to these fellow children of yours:

But if not this, what else – a leaf that cowers in fear at being plucked, a root, a bulb that in ways we cannot sense with but an instrument, cries out in pain at being uprooted, skinned and roasted live. Or a fruit, that mothership, host to a million seedling lives, every one of them that could grow out to outlive my life by orders. A stalk, a branch, name it.

Yes, this is food. This is a chain. I eat and am eaten. Terrible, this creation, that has sprung from wellsprings of love. Or is not this world the product of a loving God, but that of the evil non-God? But where your omnipotence that is screaming through the scripture hoarse?

No, I am a sinner. I have sinned, to be born in this wretched world. A dead child was washed ashore, the other day. Until then, I said, to hell with those barbarians crossing rivers and mountains to reach my land. But what of death? I boil and burn a billion little lives in my glass of tea every morning, many times over. Oh plasmodium, that I have to kill to live, oh this life that hangs to me like a necessity!

Good Lord, have you made me in your image? What is, whose reflection in spacetime appears like this visage, flesh on ribage, beating heart, pumping lung, viscera and nerve and vein, bone and nail, wallowing in pleasure and pain? That is an inverse problem that baffles our genius. It is ill-posed for certain, with no means of regularization for sure.

I must live I must live I must live. Kill, that organism is small, dumb, unintelligent, insentient, it's pain is of another kind, we can't eat air, and we are atop this chain, cobra's head, that houses all the venom. This is evolution, we are evolving space suits to head to the stars and spread the Gospel to those unknown realms still sunk steeped in barbarism.

Yes, He is great, he can be heard in the voices of lunatics that sometimes get recorded and transmitted across the generations. And I follow the masters, they were vile, very vile, they were chosen, yea they were chosen, so vile is virtuous, I be vile, I be virtuous, I am chosen, yea, I am chosen, I head to God, on the backs of a thousand dead souls.

Amen. Peace to all those I consign and all the masters I quote. Holy Cain!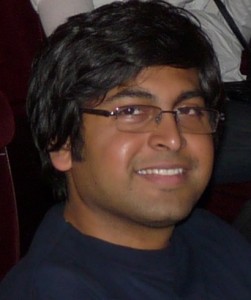 Educated in India and England, Prabhu Iyer writes contemporary rhythm poetry. He counts the classical Romantics and Mystics among his influences. Among modern poets Neruda and Tagore are his favourites for their haunting and inspirational lyrical verse. Prabhu has also explored the meaning of modern art movements such as surrealism and cubism and their role in anchoring the society through his art-poetry. Currently he is based out of Chennai, India, where he has a day job as an academic scientist.

In 2012 Prabhu collected over 50 of his poems and self-published them on Amazon Kindle: Ten Years of Moons and Mists More recently, his 2014 entry made it to the long list from among over 5000 entrants to the annual international poetry contest conducted by the UK-based publishing house, Erbacce Press. His major current projects include a further volume of poetry, his first fictional novella and a planned series of translations of lyrics from Indian film music.


Editor's Note: for further information see Interview with Prabhu Iyer at this site



robin@artvilla.com
PoetryLifeTimes
Poetry Life & Times
editor@artvilla.com
www.artvilla.com
Artvilla.com
http://www.aquillrelle.com/authorrobin.htm
http://www.amazon.com. All the Babble of the Souk. Robin Ouzman Hislop
www.lulu.com. All the Babble of the Souk. Robin Ouzman Hislop