A fucked up life

living in Zurich to work in a small town
working in a small town to live in Zurich

everything for
a small retirement benefit

everything for
tomorrow´s future



every single morning the alarm o´clock

                                 the train leaves at 6.09

                                 the train leaves at 6.09


teaching three modules when the rest of teachers

teach two

wishing to change that


                          and as the cuckoo, open your beak,
                          open your beak, but nothing changes

getting up again
taking the same seat at 6.05

sleeping on the same train seat
on the way to work
sleeping standing
on your way back 

                to yawn at the wrong timing
                to yawn at the wrong timing

getting to the small town exhausted
getting  back to Zurich      more  than exhausted

knowing that today is a piece of gold for 
the retirement benefit, the retirement benefit
the precious  golden retirement benefit
cooking not so much ´cos the lack of sleeping

 DON´T DREAM
                                                         DON´T DREAM much
                                                         DON´T DREAM
                                                         DON´T DREAM much

a fucked up life
a fucked up life

living in Zurich to work in a small town
working in a small town to live in Zurich

having a reduced future for
a little retirement benefit in Switzerland

                             having a reduced morning
                             to sleep or not to sleep
                             to sleep or not to sleep
                             never dreams, never dreams
                                             sleeping on a train, sleeping on a train 
                                                but never do it, but never do it       in class
                            
Can´t- get - out, can´t get out, can´t get out

                             from the clock, 		from the cow, 
                             from the knife,  		from the cheese
                             from the Swiss       	fucking snow,
                             				fucking snow, 
                             					           can´t get out
                             from fucking Switzerland
                             				
							from fucking Swiss 
							white clean tyranny.



Vera Moreno
from The broken bodies´ fitness center
César Simón Poetry Award 2019
Una vida jodida

vivir en Zurich para trabajar en un pequeño pueblo
trabajar para vivir en Zurich
tener una pequeña pensión, 
para el día de mañana

 cada mañana el despertador
			           el tren sale a las 6.09
                                
impartir tres módulos cuando el resto imparte dos
querer cambiar, 			     
                                   y como el cuco, abrir la boca

levantarse de nuevo
sentarse a las 6.05 en ese tren


dormir sentada
dormir de pie
dormir en el tren de ida  
dormir en el tren de vuelta

                                              bostezar a destiempo

llegar al pueblo exhausta
llegar a Zurich exhausta
sabiendo que el día cotiza en bolsa o en la pensión
cocinar poco por el sueño

NO 
                                                                          soñar

una vida jodida
vivir en Zurich para trabajar en un pequeño pueblo
trabajar para vivir en Zurich

tener un mañana reducido
una pensión pequeña en Suiza

					tener una mañana reducida
					               dormir o no dormir
						       dormir o no dormir
                                                en el tren sí, en clase no

no-poder-salir 
			   del reloj, la vaca, la navaja, el queso
                                                                          la nieve



Vera Moreno
Poema procedente de el gimnasio de los rotos
Premio de Poesía César Simón 2019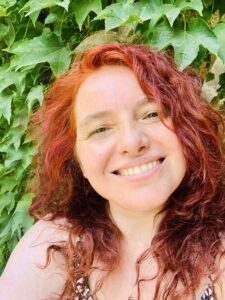 Vera Moreno (Madrid, 1972). A multifaceted writer, teacher, rhapsodist, and cultural activist. She loves performance and videopoems.
She holds a Master Degree in Artistic, Literary and Cultural Studies from the Autonomous University of Madrid; and a Sociology and Political Sciences Degree from the Complutense University of Madrid. She also did Women´s studies at Utrecht University in NL.
In 2013 she was recognized as a New Voice by the feminist publishing House Torremozas (Madrid). Vera Moreno was published by Amargord publisher in a double poetry book called The whole orange (La naranja entera) in 2016. Three years later, she won the César Simón poetry reward at the University of Valencia with the poems book called The broken bodies´ fitness center (El gimnasio de los rotos). Next year a new book is coming.
Some of her texts and poems have been translated into Dutch, Esperanto and English.
As a cultural activist she created in 2001 a innovative cultural radio space of one minute lenght called Europe for Culture on Europe FM national radio station. In 2012 Vera Moreno designed and coordinated participative literary events called Literary Moondays (Lunes literarios) at the Rivas city hall – centro cultural del ayuntamiento de Rivas, and co-founder of the poetry channel on youtube Poesía a domicilio / Poetry delivery, with the great Dominican poet Rosa Silverio (2021).








Robin Ouzman Hislop is Editor of Poetry Life and Times at Artvilla.com ; You may visit Aquillrelle.com/Author Robin Ouzman Hislop about author & https://poetrylifeandtimes.com See Robin performing his work Performance (University of Leeds)