Did we ever really exist 
before this time, 
this place and space
this desire to frame everything 
in doorway-shaped pictures
then rush to seek approval on networks
of social acceptance
please like me
please like me
please like me…

Was my face really there
before mirrors made it appear,
to make it be so?
Are there mirrors in Hell?

Was beauty really there
before PhotoShop
lent it that airbrushed glow?
How can we ever tell?

Was the ego 
really a thing
before Zoom gave it 
a platform to shout from
(while discreetly putting others 
on mute)?

How did apps ever survive
without notification
to bring motivation?

Look, now her hair is pink
and he has inked his arm
they have millions of shares…

but your cat can sing and dance
with elegance and charm
and yet, nobody cares.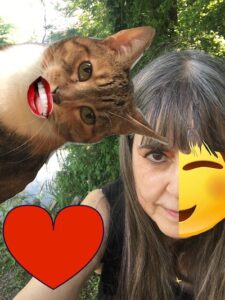 Sara Louise Russell, aka PinkyAndrexa, is a UK poet and poetry ezine editor, specialising particularly in sonnets, lyric-style poetry and occasionally writing in more modern styles. She founded Poetry Life & Times and edited it from 1998 to 2006, when she handed it over to Robin Ouzman Hislop and Amparo Arrospide; Robin now runs it as Editor from Poetry Life & Times at this site. Her poems and sonnets have been published in many paper and online publications including Sonnetto Poesia, Mindful of Poetry and Autumn Leaves a monthly Poetry ezine from the late Sondra Ball. Her sonnets also currently appear in the recently published anthology of sonnets Phoenix Rising from the Ashes. She is also one of the first poets ever to be published on multimedia CD ROMs, published by Kedco Studios Inc.; the first one being "Pinky's Little Book of Shadows", which was featured by the UK's national newspaper The Mirror, in October 1999. (Picture link for Mirror article) Angel Fire
Robin Ouzman Hislop is Editor of Poetry Life and Times at Artvilla.com ; You may visit Aquillrelle.com/Author Robin Ouzman Hislop about author & https://poetrylifeandtimes.com See Robin performing his work Performance (University of Leeds)