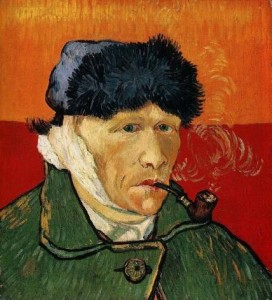 the reed of a loom
the guideways, of a loom, or
when suddenly, when suddenly
this is spring, and this is summer
and this, this is open sky.
the birds resemble a man.
dandelion. giddying.
budded. spree.
roundly, with joy
for nothing and for everything
the day, with my own heart
too soon, arrayed. this haste
this pasturing. this coffee companion.
this cup. this yellow sky.
"Self-Portrait with Bandaged Ear" by Gregory Vincent St. Thomasino. The Dutch artist Vincent van Gogh left us a series of self-portraits, among them the bandaged ear self-portraits, upon which this sonnet is based.
Gregory Vincent St. Thomasino (1958—) was born in Greenwich Village, New York, and was raised in both the city and in the country across the Hudson River in New Jersey. He was educated at home, eventually to enter Fordham University where he received a degree in philosophy. In 2009 he received the Distinguished Scholar Award from the Doctor of Arts in Leadership program at Franklin Pierce University in New Hampshire. His poetry and prose have appeared in OCHO, Barrow Street, Poets and Artists, jubilat, Verse Wisconsin, Pindeldyboz, Xcp: Cross-Cultural Poetics and EOAGH. About the sonnet form ("that perfect thought-form") he maintains that it is still a viable form whereby the imaginative poet may flaunt his technical and stylistic virtuosity. His poems will often take the form of two or three sonnets in string and one of these, "The Archaeology of Palestine," has been nominated for a Pushcart Prize. His works include the e-chap, The Logoclasody Manifesto (Eratio Editions, 2008), and a book of poems entitled, The Valise (Dead Academics, 2012).
This sonnet is pre-published with the permission of the Editor-in-chief from:Richard Vallance, editor-in-chief. The Phoenix Rising from the Ashes: Anthology of sonnets of the early third millennium = Le Phénix renaissant de ses cendres : Anthologie de sonnets au début du troisième millénaire. Friesen Presse, Victoria, B.C., Canada. © 2013. approx. 240 pp. ISBN Hardcover: 978-1-4602-1700-9 Price: $28.00 Paperback: 978-1-4602-1701-6 Price: $18.00 e-Book: 978-1-4602-1702-3 Price: TBA
300 sonnets & ghazals in English, French, Spanish, German, Chinese & Persian. Selected sonnets are pre-published by our permission in Poetry Life & Times (UK) which has exclusive sole rights prior to the publication of the anthology itself. Readers may also contact Richard Vallance, Editor-in-Chief, at: vallance22@gmx.com for further information. http://vallance22.hpage.com/
***
robin@artvilla.com
editor@artvilla.com