The fee of the mortician, high yet negotiable,
reminds us of the priest – in both the cases
their soullessness owes to their knowledge,
'no one occupies the temple'.

My friend offers me a consoling pint.
The road flows neon; people shoves people;
breaths crowd my interior, and the pub too
buzzes with more mobs.

We take our frustration back to the road;
the asphalt yawns and stretches loneliness
so sudden that we dither –
'Where did all the people go?'
It must not be more than five minutes
and a few winks between two swings of the pub door.

We return to the pub; no one infests it any longer
except one bartender drinking his free whiskey
in the glassblower's memento mori.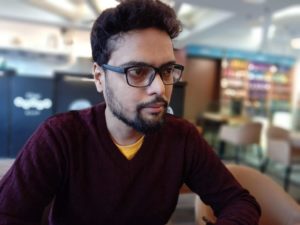 Edited the online magazine 'Words Surfacing'. Authored 'The Circus Came To My Island' (Spare Change Press, Ohio), A Place For Your Ghost Animals (Ripple Effect Publishing, Colorado Springs), Understanding The Neighborhood (BRP, Australia), Scratches Within (Barbara Maat, Florida), Kleptomaniac's Book of Unoriginal Poems (BRP, Australia) and Eternity Restoration Project- Selected and New Poems (Hawakal Publishers, India) and now Herding My Thoughts To The Slaughterhouse-A Prequel (Alien Buddha Press)

Author Facebook- https://www.facebook.com/KushalTheWriter/
Author Page amazon.com/author/kushalpoddar_thepoet
Twitter- https://twitter.com/Kushalpoe






Robin Ouzman Hislop is Editor of Poetry Life and Times ; his publications include

All the Babble of the Souk , Cartoon Molecules and Next Arrivals, collected poems, as well as translation of Guadalupe Grande´s La llave de niebla, as Key of Mist and the recently published Tesserae , a translation of Carmen Crespo´s Teselas.

You may visit Aquillrelle.com/Author Robin Ouzman Hislop about author. See Robin performing his work Performance (University of Leeds)