Sanitizer

The woman holds 'This Area Has Been
Sanitized', forgets to put it down.
The man wears a plague mask.
The woman's one has an abstract.

A train leaves platform Seven somewhere.
I mean I do not know why I hear the track,
announcements, people rushing, waning,
gone, when nowhere near the restaurant
a station says Welcome and Goodbye at the same time.

Time uses the restroom. Piss looks like its blood-work.
The woman orders a salad that has everything
not devoured by the locusts. The man desires an ocean.
A waiter who keeps his distance shakes his head,
"That's been banned from circulation since
they tested the fishmonger and found positive.
I use the fluids from my eyes to wash my hands.
More it stings more it feels decontaminated.

Truth As A Pair Of Underwear

"Truth be my underwear.", she says
and slips out of her pairs;
silence stands by the rain
swollen window frame, naked;
the comforter feels wet as if
humidity too lacks any apparel.

I mistake the moon for a black cat;
moaning season, scratches on the wood,
aunt Helen goes missing albeit her medicine
remains as a reminder to the old age.

Truth, sniffed by this pervert, seems a
long forest lone black woman snakes into
when a white truck chases her.
I mistake silence for a tall tree; leaves rustling
a song only one who sold her soul can sing.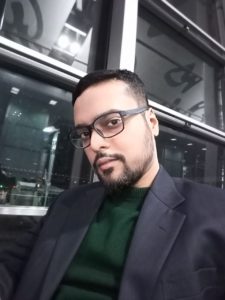 Kushal Poddar

Short bio-

Editor of 'Words Surfacing'.

Authored 'The Circus Came To My Island', 'A Place For Your Ghost Animals', 'Understanding The Neighborhood', 'Scratches Within', 'Kleptomaniac's Book of Unoriginal Poems', 'Eternity Restoration Project- Selected and New Poems' and 'Herding My Thoughts To The Slaughterhouse-A Prequel'. Find and follow him https://www.amazon.com/Kushal-Poddar

Robin Ouzman Hislop is Editor of Poetry Life and Times at Artvilla.com ; his publications include

All the Babble of the Souk , Cartoon Molecules, Next Arrivals and Moon Selected Audio Textual Poems, collected poems, as well as translation of Guadalupe Grande´s La llave de niebla, as Key of Mist and the recently published Tesserae , a translation of Carmen Crespo´s Teselas.

You may visit Aquillrelle.com/Author Robin Ouzman Hislop about author. See Robin performing his work Performance (University of Leeds)