A shower-cap absolves the hair but the spirit dampens,
as droplets of water struggle to make melody on lips,
then fall, for no other purpose than to inhabit space,
like corpses, like the dead reaching for the towel;
between woman and water, there remains;
a grace of rubbing under the armpits,
stroking the back, almost a song in the throat
but no: sorrow would never yield to joy.
Not in a bathroom. Not in a face that
fears so hard, so willfully, the steamed-up mirror.
A shower-cap is not a hole in which a woman might hide.
It is not a shining circle where God makes his rounds.
And it's neither peace, nor murder,
just something to fit neatly when nothing else will.
But body dry, towel hung on the rack, bathrobe
tightened around the waist, cap comes off,
hair falls down upon her shoulders.
She's arthritic, seventy-five, widowed, wrinkled and gray.
So there you have it. The cap's off.
Are you pleased with yourselves, voyeurs.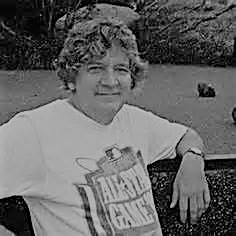 John Grey is an Australian poet, US resident. Recently published in the Homestead Review, Harpur Palate and Columbia Review, Dunes Review, Poetry East and North Dakota Quarterly with work upcoming in Haight-Ashbury Literary Journal, Thin Air, Dalhousie Review.





Robin Ouzman Hislop is Editor of Poetry Life and Times ; his publications include

All the Babble of the Souk , Cartoon Molecules and Next Arrivals, collected poems, as well as translation of Guadalupe Grande´s La llave de niebla, as Key of Mist and the recently published Tesserae , a translation of Carmen Crespo´s Teselas.

You may visit Aquillrelle.com/Author Robin Ouzman Hislop about author. See Robin performing his work Performance (University of Leeds)