LIMIT

The woman watching the see is blind. For her, the sea waves are the soul waves.
From now on, the chopped light of the immense water container is what she will see
running deeper and deeper inside herself.

The blind woman and the ship that could never sail are of the same age.
The ship and her last lover have the same farsightedness.

Her last lover was a sailor and a fool. He heard only the melody
coming from the beating stick, turning a deaf to ear to all the island's playing drums.

The blind woman and her last lover loved the flute sounds at dusk.

He never told her that the sea light had the shape of his destroying love for her.
However, she would willingly pretend that she had understood him.
She feared that he might also go blind if she told him the truth.


HIS WIDOW

His widow will continue to live her earthly years under the shadow of the emperor's courtyard.

He, the most wonderful tree, left her soul empty with the crowds still conquered by him.

The crowds always look at his widow as a mantel of leaves.

When the blossoms wither, the mantel ceases to exist. At this moment even the crowds stop thinking.

In spring the mantel rejuvenates again. His widow gladdens because of the freshened memory of the citizens who never knew the dictator.

His widow loved the crowd and the leaf.

They both have short memory.


HE

He will not be able walk out of the house where he and the Eagle stay imprisoned.

He is there, and the guitar sounds coming from beyond the window, though tempting,
fail to encourage him.

He and the Eagle love and hate each other infinitely.

She will not pluck his eyes out, for he has given up watching since his childhood.
To both of them, light particles are as strange as colors.

She will not blind him, and he will cry one day, he will cry a lot because of her farewell.

At that moment he will be a child conscious of his loss, while the fir-trees will throw
thick shadows over the sadness of the undiscovered oases.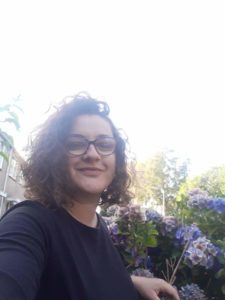 Alisa Velaj has been shortlisted for the annual international Erbacce-Press Poetry Award in UK in June 2014. Her works have appeared in more than eighty print and online international magazines, including: FourW twentyfive Anthology (Australia), The Journal (UK), The Dallas Review (USA), The Linnet's Wings (UK) The Seventh Quarry (UK), Envoi Magazine (UK) etc etc. Velaj's digital chapbook "The Wind Foundations" translated by Ukë Zenel Buçpapaj is published by Zany Zygote Review (USA). Her poems are also translated in Hebrew, Swedish, Romanian, French and Portuguese. Alisa Velaj's poetry book "With No Sweat At All" (trans by Ukë Zenel Buçpapaj) will be published by Cervena Barva Press in 2019.






Robin Ouzman Hislop is Editor of Poetry Life and Times his publications include All the Babble of the Souk and Cartoon Molecules collected poems and Key of Mist the recently published Tesserae translations from Spanish poets Guadalupe Grande and Carmen Crespo visit Aquillrelle.com/Author Robin Ouzman Hislop about author. See Robin performing his work Performance (University of Leeds) and his latest Collected Poems Volume at Next-Arrivals