SHEOL, SHEOL..*
[A gender-free lament in plural]
 
Songs sung to our lands. 
Songs of sorrow, screams, or sheer satisfaction, 
sung on our doorsteps.
 
Songs sung in foreign lands.
To those distant lands. 
Songs sung on doorsteps to those foreign lands, 
or songs of foreign lands on our doorsteps. 
(Everyone will, at some point, live a mental exile)
 
Songs, songs, songs—endlessly; 
after endlessness, yet another endlessness, 
with different songs, 
even though still with the same screams...
 
Nobody even thinks of migrating 
away from your catacombs, Sheol... 
Nor away from your songs, either!
  
*Sheol -the abode of the dead in early Hebrew thought.
  
Translated from Albanian by Arben P. Latifi
   

 

Alisa Velaj has been shortlisted for the annual international Erbacce-Press Poetry Award in UK in
June 2014. 

Her works have appeared in more than eighty print and online international magazines, including: 
FourW twentyfive Anthology (Australia), The Journal (UK), The Dallas Review (USA), 
The Linnet's Wings (UK),The Seventh Quarry (UK), Envoi Magazine (UK) etc., etc., 

Velaj's digital chapbook "The Wind Foundations" translated by Ukë Zenel Buçpapaj is published 
by Zany Zygote Review (USA). 

Her poems are also translated in Hebrew, Swedish, Romanian, French and Portuguese. 
Alisa Velaj's poetry book "With No Sweat At All" (trans by Ukë Zenel Buçpapaj) was published 
by Cervena Barva Press in 2019.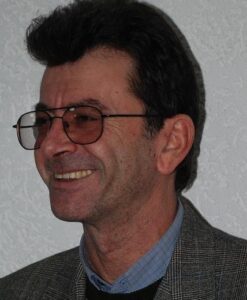 Bio of translator
Arben P. Latifi ̶ born in 1961 in Kolonjë, Albania. A graduate of the History-Philology College, State University of Tirana [1985]; MA degree in English Language Arts & Teaching [Graduation thesis: "A Comparative Analysis of the Albanian Translations of "King Lear" and "Richard III" by Skënder Luarasi."]Postgraduate studies in Diplomacy and International Trade [1987-88]. Teaching career comprises a wide range of locations [Albania, USA, Oman, China] and age groups [from young learners to adults]. Keen to the core principles of the art of translating and poetryspecifics, his distinct style reflects maximum-level accuracy and faithfulness to the original text message, while flexibly and reasonably going the extra mile to add to original merits via enhancement of cohesive interlingual flow, imagery, vocabulary, musicality…






Robin Ouzman Hislop is Editor of Poetry Life and Times at Artvilla.com ; You may visit Aquillrelle.com/Author Robin Ouzman Hislop about author & https://poetrylifeandtimes.com See Robin performing his work Performance (University of Leeds)