Because Of The Deep Notes by Stephen Philip Druce

I saw poker faced monsters in shuffling cars plot,
i saw the misshapen grins of arching fountains,
the pulsing hounds in shadowed gunshot.
In lost ships i saw ghosts within coats of forgotten stitch,
under the strips of desert skin i saw the old bones twitch.
I saw giants big as churches juggle fire in the alleys
where the fleeing fox sat, among the cracked walls
were the manacled cat calls and pouring fibre rat.
I saw the broken spine of stopped clock as the scattered stars wept,
without the midnight chimes the great conductor in the sky slept.
I saw misbehaving angels in chariots clad in gazelle breeze run,
i saw the roll of a hurricane bowl of palm trees glad of a golden peach sun.
I saw flesh crawl upon deserted beach floors in the name of contorted sin,
i saw the ocean contours rock in tender velvet hymn.
I saw horses gallop under backstreet tunnels that curved in graffiti art,
of a rainbow arc illuminating in the dark and our names penned in a love heart –
because of the deep notes.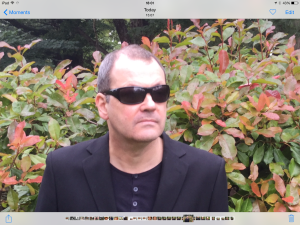 Stephen Philip Druce is a fifty year old poet from Shrewsbury ( birthplace of Charles Darwin) in England. At college his literary tutors referred to him as 'The Real Fantasist', such was the rich imagery he would display in his fantasy based poetry.

Stephen is published with Pulsar, Century 121, The Right Place At The Right Time, Bad Scents Of Humour, Muse Literary Journal, The Screech Owl, Hermes, Bareback Literature, Fade, and The Inconsequential.

Stephen enjoys reading William Carlos Williams, WH Auden, Philip Larkin, Charles Bukowski, John Keats, and Dylan Thomas.


Key of Mist. Guadalupe Grande.Translated.Amparo Arróspide.Robin Ouzman Hislop

goodreads.com/author/show/Robin Ouzman Hislop
http://www.aquillrelle.com/authorrobin.htm
http://www.amazon.com. All the Babble of the Souk. Robin Ouzman Hislop
www.lulu.com. All the Babble of the Souk. Robin Ouzman Hislop
https://www.amazon.com/author/robinouzmanhislop
http://www.innerchildpress.com/robin-ouzman-hislop.All the Babble of the Souk
[email protected]
PoetryLifeTimes
Poetry Life & Times
[email protected]
www.artvilla.com
Artvilla.com