I'm the master
of beginnings; neither middle, nor end,
of steps that hang, neither rise nor fall,
of sounds that are, reach ears mean nothing.

Try not to call me, or meet me (never).
Mail me. Mails are good, convenient too.
There's no guarantee that I'll mail you back.
I respond or reply at my leisure
for my pleasure.

Had you been a little less
than you, I'd suspect you, but you, as you are,
I can't suspect. If I do, then the end of
the middle comes.
Then, apocalypse comes.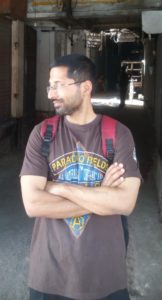 Rajnish Mishra is a poet, writer, translator and blogger born and brought up in Varanasi, India and now in exile from his city. His work originates at the point of intersection between his psyche and his city. His work has now started appearing in journals and websites.




Robin Ouzman Hislop is Editor of Poetry Life and Times his publications include All the Babble of the Souk and Cartoon Molecules collected poems and Key of Mist the recently published Tesserae translations from Spanish poets Guadalupe Grande and Carmen Crespo visit Aquillrelle.com/Author Robin Ouzman Hislop about author. See Robin performing his work Performance (Leeds University) .