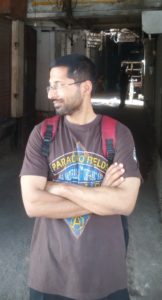 My daughter, eight, looked at me
with eyes: half-enquiring, half-afraid,
eyes with faith, half, at least,
and asked suddenly: Are we born again after death?
I looked at my wife. Our eyes met.
She smiled: that corners of the eyes,
so-it-did-happen smile, and I knew
it was not she who dropped
a hint to the child
of death or birth, or both.
I did not, I know. We don't discuss death
at home, especially with children
awake or around: never with them around.
No, not death, the old enemy, no talks
in the recent past with anyone.
Death horrifies me.

So, I sat back,
took a pause,
filled my eyes with light and strength,
that fills the eyes of those
with half-faith, at least,
and told her boldly that half-lie:
'No, you don't have to die if you say no to death'.
I knew I was half-true.
Tricks language plays!


Rajnish Mishra is a poet, writer, translator and blogger born and brought up in Varanasi, India. He is the editor of PPP Ezine, a poetry ezine. He has a blog on poetry, poetics and aesthetic pleasure: https:/poetrypoeticspleasure.wordpress.com.




Robin Ouzman Hislop is Editor of Poetry Life and Times his publications include All the Babble of the Souk and Cartoon Molecules collected poems and Key of Mist the recently published Tesserae translations from Spanish poets Guadalupe Grande and Carmen Crespo  visit Aquillrelle.com/Author Robin Ouzman Hislop about author.  See Robin performing his work Performance (Leeds University) .