A modest operation of exclusion
Extracts the rain-frog from the desert sands,
The cornered mouse from his confusion,
The vaguely dreaming poet from drowsy lands,
And it even explains, eventually,
Why we do not know, even vaguely,
How we wish happiness to be.
And the operator standing by,
Whose merciful, providential hands
Make this story whole so that I
Throw such eloquence at the silent sky?

You see how it is. Ever since I fell
Into the Niagara from that hot-air balloon,
I dream of smiling crocodiles in Hell
Feeding me sherbet with a golden spoon.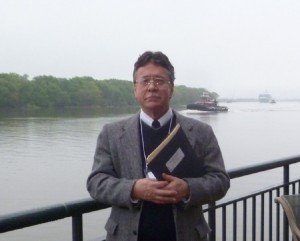 R. W. Haynes has taught literature at Texas A&M International University since 1992. His recent interests include the early British sonnet, and he is completing a second book on the Texas playwright and screenwriter Horton Foote (1916-2009). In his poetry, Haynes seeks to celebrate life, liberty, and the pursuit of happiness without sounding any more dissonant notes than he has to. In fiction, he works toward grasping that part of the past which made its mark on his generation. He enjoys teaching drama, especially the Greeks, Ibsen, and Shakespeare, and he devoutly hopes for a stunning literary Renaissance in South Texas.

editor@artvilla.com
robin@artvilla.com
www.facebook.com/PoetryLifeTimes
www.facebook.com/Artvilla.com