Blathering aesthetic remf,
Where were you when that meteorite
Fiberglassed half a continent?
Did you cry with us in the choir
Of angel rapture, back when matter
Meshed with concept meshed with love?
Did you point your K-Mart blowgun
And matching plastic hatchet
As the saints came striding down the sky?

Wait a minute.
I remember you. You had a nervous face
And complained about pelicans.
I thought at the time that a jury of penguins
Would be unanimous,
Vindicating their crash-diving friends.
I thought you needed some time at sea,
Some time to gather gravity.
After all, don't the gulls always call?

In the place I walked a little while ago,
A rainbow raised its arms before the sun,
And, by the shrine of a murdered child,
A mockingbird flew at an oriole.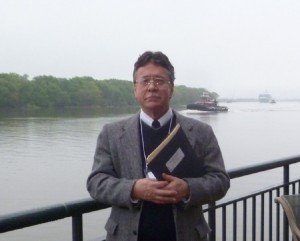 R. W. Haynes has taught literature at Texas A&M International University since 1992. His recent interests include the early British sonnet, and he is completing a second book on the Texas playwright and screenwriter Horton Foote (1916-2009). In his poetry, Haynes seeks to celebrate life, liberty, and the pursuit of happiness without sounding any more dissonant notes than he has to. In fiction, he works toward grasping that part of the past which made its mark on his generation. He enjoys teaching drama, especially the Greeks, Ibsen, and Shakespeare, and he devoutly hopes for a stunning literary Renaissance in South Texas.






Robin Ouzman Hislop is Editor of Poetry Life and Times his publications include All the Babble of the Souk and Cartoon Molecules collected poems and Key of Mist the recently published Tesserae translations from Spanish poets Guadalupe Grande and Carmen Crespo visit Aquillrelle.com/Author Robin Ouzman Hislop about author. See Robin performing his work Performance (University of Leeds)