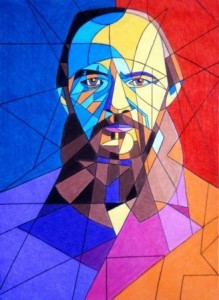 When Dostoyevsky seemed so pessimistic,
 I smiled to think he'd viewed society
as though the false, the foolish, and the sadistic
established the patterns of human propriety,
with demons hovering over each decision,
winking and leering, clouding calculation
with appetite, with decency in derision,
annihilating honesty in negotiation.
Wondering at his marvellous naïveté,
I recognize that diabolic brood,
and ask myself how he could write all day
depicting evil with exactitude.
Age brings these recognitions, it seems,
as nightmares shove aside our foolish dreams.
R. W. Haynes (1951 — ), Professor of English at Texas A&M International University, has published sonnets and other poems in numerous journals, including Ampersand Poetry Review, Lucayos, Off the Coast, The Queen City Review, The Resurrectionist, Lucid Rhythms, Kritya, Willows Wept Review, Sixers Review, Sonnetto Poesia and Tertulia. He teaches early British literature and Shakespeare, with occasional courses on Ibsen and on Horton Foote.
This sonnet is pre-published with the permission of the Editor-in-chief from:Richard Vallance, editor-in-chief. The Phoenix Rising from the Ashes: Anthology of sonnets of the early third millennium = Le Phénix renaissant de ses cendres : Anthologie de sonnets au début du troisième millénaire. Friesen Presse, Victoria, B.C., Canada. © 2013. approx. 240 pp. ISBN Hardcover: 978-1-4602-1700-9 Price: $28.00 Paperback: 978-1-4602-1701-6 Price: $18.00 e-Book: 978-1-4602-1702-3 Price: TBA
300 sonnets & ghazals in English, French, Spanish, German, Chinese & Persian. Selected sonnets in this anthology are to be pre-published by our permission in Poetry Life & Times (UK) which has exclusive sole rights prior to the publication of the anthology itself. Readers may also contact Richard Vallance, Editor-in-Chief, at: vallance22@gmx.com for further information.
http://vallance22.hpage.com/
 ***
robin@artvilla.com
editor@artvilla.com