Chores

The humdrum of humble chores
hunted by us both
because the syllables,
stressed and unstressed, of gardening,
dusting, washing, doing the dishes
or fluffing those instruments of sleep
lullabies our nervous system.

"Which song did your great grandparents
sing during the old pestilence?"
You shake your head. The scattered music
migrated to the concentration camp of Lethe.

During shoveling snow that swirls
to sheath
the ground beneath for the first time since
the glacial maximum I discover
my grandmother's canticle – half ember,
half skeletal, some canary's bones
asleep in its circle.

Crickets

Crickets mark the absence of silence
or noise, and the wailing sirens.
We count them pass
as if they carry silence
in body bags.

"One.", I say in a singsong way;
"And two." You croon. The lullaby
or the urgency of sirens
burkes the insects; something
gnaws the roof, makes one itch
to touch the ceiling
with his tongue and to lick
it clean.

If you think we've lost our minds
welcome to the house of quarantine;
the border of the lands all indoor,
we play with our chores to stay sane.
One flipped and crossed the border.
We are yet to hear the rests.
Something gnaws the roof. I hope it has life.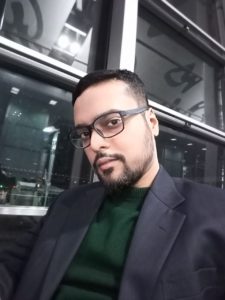 Edited the online magazine 'Words Surfacing'. Authored 'The Circus Came To My Island' (Spare Change Press, Ohio), A Place For Your Ghost Animals (Ripple Effect Publishing, Colorado Springs), Understanding The Neighborhood (BRP, Australia), Scratches Within (Barbara Maat, Florida), Kleptomaniac's Book of Unoriginal Poems (BRP, Australia) and Eternity Restoration Project- Selected and New Poems (Hawakal Publishers, India) and now Herding My Thoughts To The Slaughterhouse-A Prequel (Alien Buddha Press)

Author Facebook- https://www.facebook.com/KushalTheWriter/
Author Page amazon.com/author/kushalpoddar_thepoet
Twitter- https://twitter.com/Kushalpoe






Robin Ouzman Hislop is Editor of Poetry Life and TimesArtvilla.com ; his publications include

All the Babble of the Souk , Cartoon Molecules, Next Arrivals and Moon Selected Audio Textual Poems, collected poems, as well as translation of Guadalupe Grande´s La llave de niebla, as Key of Mist and the recently published Tesserae , a translation of Carmen Crespo´s Teselas.

You may visit Aquillrelle.com/Author Robin Ouzman Hislop about author. See Robin performing his work Performance (University of Leeds)