Su antigua música el desdecir diciéndose
el vértice del miedo y su pregunta
al filo de un abismo
como si de prestado no viviésemos miedo

Ah no lo desconoces alguna vez de niño lo sentiste
bajo sábanas amargas o dichosas
de pronto alargar su dedo oscuro

el miedo amigo el miedo cómplice
restregando los flancos de otro día
barrenando certezas preguntándose aquí
cómo decirles nada cómo decir si aprietan

Otros imponen establecen recaudan
otros castigan evalúan deciden
otros deciden miedo

o nadie en absoluto ni una sola persona
y sin embargo sabes
frente al espejo sabes
callar lo sabes lo has aprendido al fin

Di qué pronto la costumbre nos arropa
qué pronto está debajo el escondite
y las vasijas frías del llorar

y el miedo nos sonríe tiritando
entrechocando dientes
cubiertos para un ya mudo comensal
tan yerto como tú que le prometes
vivir, seguir viviendo en miedo como siempre.

Amparo Arróspide, a poem from En el oído del viento (Baile del Sol, 2016)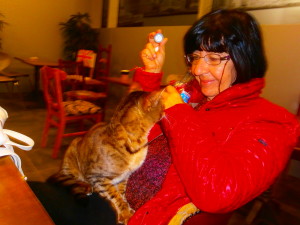 Amparo Arróspide (Argentina) has published five poetry collections: Presencia en el Misterio, Mosaicos bajo la hiedra, Alucinación en dos actos y algunos poemas, Pañuelos de usar y tirar and En el oído del viento, as well as poems, short stories and articles on literature and films in anthologies and international magazines. She has translated authors such as Francisca Aguirre, Javier Díaz Gil, Luis Fores and José Antonio Pamies into English, together with Robin Ouzman Hislop, who she worked with for a period as co-editor of Poetry Life and Times, a Webzine. Her translations into Spanish of Margaret Atwood (Morning in the Burned House), James Stephens (Irish Fairy Tales) and Mia Couto (Vinte e Zinco) are in the course of being published, as well as her two poetry collections Hormigas en diáspora and Jacuzzi. She takes part in festivals, recently Transforming with Poetry (Leeds) and Centro de Poesía José Hierro (Getafe).


(EN EL OÍDO DEL VIENTO, Baile del Sol, 2016)
Amparo Arróspide


En el oído del viento es el último libro de poemas publicado por Amparo Arróspide, filóloga, traductora y poeta nacida en Argentina y radicada desde hace años en Europa. En esta colección de poemas nos ofrece un trabajo singular, innovador, sorprendente, coloreado por diversos registros y voces corales, sin perder el hilo conductor de una voz afianzada: "Y a salvo yo, lectora de la vida, esto que se mueve y me sucede, donde sucedo y no hay respuestas, ni siquiera búsqueda de respuestas, un afán inútil, donde presto mi oído atento al runrún de lo que pasa y va pasando."

La realidad resuena en este oído y se nos ofrece traducida con distorsión, juegos del lenguaje y toques de ironía, quizá una de las mejores formas de poner de manifiesto la situación social que atravesamos sin caer en la queja panfletaria o el lamento repetitivo.

Y es que lo cierto y verdad es que "Hemos descreído del género mayor, ese rumiante ante la caja de los panegíricos con olor a violeta y forma de billete bancario."

El libro está dividido en tres partes: "en el oído del viento", "el mundo en fuga" y una tercera parte "a modo de epílogo". Encontramos en muchos de estos poemas una poesía crítica con esa realidad exterior que sutilmente nos ha ido imponiendo su dictadura de lo políticamente correcto. Es tarea de la poesía desvelar los resortes de esas trampas para acceder a la verdad, a la esencia de una realidad que a menudo difiere bastante de las apariencias: "¿Ustedes nunca fueron vendidas compradas construídas/ paseadas por los medios de incomunicación?"

Los poemas se enfrentan a esa labor a través de ingeniosos mecanismos que denotan un buen trabajo con el lenguaje y con la semántica, dejando apreciar el valor textual de los poemas, a la vez que encuentran diversos tipos de paralelismos con la realidad exterior a la que refieren. En esa relación de contexto los versos se abren paso significando distorsionadamente, tratando con divertimento crítico acontecimientos que nos conciernen a todos los ciudadanos.

Una innovadora fusión de poéticas se nos revela aquí. Por un lado, encontramos preocupaciones y motivos de fondo que podrían resumirse en estas palabras de Enrique Falcón: "Mi verdadero conflicto: que me muerden mis versos, que no tengo país." Y por otro lado, el magnífico trabajo con el lenguaje se acerca formalmente a una poesía conceptual, cercana a los concretistas y a algunas obras de Martín Gubbins o Ignacio Miranda en su tratamiento del lenguaje administrativo y burocrático, convertido en obra de arte mediante el talento poético.

Esta labor a que nos referimos se aprecia en una serie de poemas que ofrecen variaciones a referencias legislativas como en "Real Decreto 624/2014" o a discursos políticos como en "Investidura MMXI" donde se alude al discurso de investidura del presidente de Gobierno actual en España. Hay en ellos un contraste de la estructura opaca, propia de ese tipo de discursos políticos, con esa magia poética que nace de los nuevos sentidos que ofrece el texto distorsionado. Ecos surrealistas de una voz que se distancia de la realidad para denunciarla mejor mediante la deformación de los significantes, el realismo de ese lenguaje político resulta tan grisáceo que en su temerario engaño no es capaz de ofrecer ni siquiera un vocabulario seductor. Esta poesía seduce y divierte, pero a su vez contiene el poso amargo de la verdad ineludible, de la corrupción, del paro, de los recortes, de las mentiras que duelen:

"Habrá pañoles, todos punibles, todos fungibles, todos cocodrilos,/ dignos de esputo, todos capaces de trincar en la estafeta común."

Los recursos del lenguaje poético son mucho más bellos y entretenidos que ese lenguaje de los burócratas, pero desvelan también una verdad más cruda. El esperpento se hace necesario para poder afrontar el tratamiento de cuestiones que tanto nos afectan: apela a la función lúdica de la literatura a la vez que despierta el pensamiento crítico, señalándonos la realidad que tenemos que afrontar cada día.

"Esta es mi puesta, Luñorías./ Es una oferta de bergamota porque se sustenta en la micción/ de que contamos con miedos, meigas y vergas para salir adelante."

En En el oído del viento también hay ráfagas de un registro más íntimo con poemas que apuntan a preocupaciones esenciales como el paso del tiempo, la naturaleza o el amor con ecos de César Vallejo y referencias a otras tradiciones culturales. Y también a la utilidad de la poesía, al lugar del poeta en este mundo, si es que tiene cabida más allá de infinitos interrogantes: "¿Todos los poetas no pueden…/ obtener un doctorado en sinestesia/ por la universidad de Columbia en Nueva York? /¿Trabajar de catedráticos de ciencias púnicas/ trabajar de maestras jardineras,/ trabajar?" "¿No pueden desdoblarse transmutarse / no pueden extrañarse balbucearse / y enmudecer al fin?"

En el contexto actual no podemos permitirnos el lujo de que este tipo de obras pasen de puntillas por las estanterías, estamos ante una apuesta innovadora y vitalista que tiende puentes y abre caminos en el marco de la poesía contemporánea. A pesar de tantas necesarias cuestiones, esta poesía no enmudecerá.

Cerrando el libro, a modo de epílogo, encontramos un magnífico diálogo que no podría ser más necesario: "Por su bien y por el mío, ciudadano paciente, lo engranaré en la maquinaria de la rutina social. Afortunado usted: de haberlo atendido otro (hay dos escuelas, la dura y la inflexible), dada su mórbida atracción por Sogas y Vigas ya estaría colgando. Podría hacer otro chiste fácil con los empalmes del ahorcamiento pero no lo haré. Alégrese, hombre, tiene usted permiso. ¡Pero hable, calle, alégrese!"

Por su bien y por el mío, ciudadano paciente, le recomiendo que se acerque a la poesía que Amparo Arróspide nos ofrece en esta obra.

José Antonio Pamies

En el oído del viento is only sold at http://www.latiendadebailedelsol.org/ Amparo Arróspide En el Oído del Viento.html




José Antonio Pamies (Alicante, 1981

―

) Finalista del III Premio internacional de poesía 
Andrés Salom 2005 y del II Premio de la editorial poesia Eres Tu 2010 con 

Las Ruinas 
de la Aurora

. Ha publicado 

Campos de hielo

 (Babilonia, Pliegos de la palabra nº 3, 2012) 
y 

Afonías

 (finalista del XXVI Premio Gerardo Diego de Poesía), así como poemas en revistas 
y 

numerosas

 antologías. Reside en Madrid, donde realiza estudia Teoría de la Literatura y 
Literatura Comparada.
 
 

José Antonio Pamies (Alicante, 1981―) His early poetry collection Las Ruinas de la Aurora was a runner up at the III Andres Salom International Poetry Award in 2005 and the II poesia Eres Tu Publisher Award in 2010. He has published Campos de hielo (Babilonia, Pliegos de la palabra nº 3) and Afonías― a runner up at the XXVI Gerardo Diego Poetry Award. He currently lives in Madrid, pursuing studies in Theory of Literature and Comparative Literature.

www.facebook.com/PoetryLifeTimes
www.facebook.com/Artvilla.com
robin@artvilla.com
editor@artvilla.com

Key of Mist. Guadalupe Grande.Translated.Amparo Arróspide.Robin Ouzman Hislop

goodreads.com/author/show/Robin Ouzman Hislop
http://www.aquillrelle.com/authorrobin.htm
http://www.amazon.com. All the Babble of the Souk. Robin Ouzman Hislop
www.lulu.com. All the Babble of the Souk. Robin Ouzman Hislop
https://www.amazon.com/author/robinouzmanhislop
http://www.innerchildpress.com/robin-ouzman-hislop.All the Babble of the Souk