'The guests from the heavenly vault: stars, moon, sun, comets, feed my words and provide them with a relentless lymph. So do the many spots, and people whom I happen to stumble upon. So do fragments from conversations I happen to have overheard. My irrepressible longing for reshaping all of them in a new different life, so as to give them a fresh soul, is the drive enabling my words to be invaded by that green fuse we might think of as the very life and soul of poetry.' (Gabriella Garofalo)

http://www.argotistonline.co.uk/Blue Soul

(P.1)
A bit of advice, blue works best if you need
To creep in on the sly, it's the latest fad,
Peeking at the stunning shows of some wannabe star,
Nobody cares about oceans or skies –
'Course you're right, no bloody reason
To wake up and listen to a breathing night,
Her lips mumbling in fractured whispers
'Please God, don't play dirty',
But mind, you might chance on a runner in the blue,
A soul clad to the nines who scatters across the sky
Some bright twinkling lights,
A warning sign of a blessed hour that atones for naked souls,
Buildings rising up and wild, dark curtains blocking us
From talking to hidden stars who foster no desire
For stony blindness or witty repartees –
Head to him, fear not the ashes,
The glimpse of perfection, the shades of missing time,
For he'll shape demise into a sunny spot
Where the candles we thought snuffed out
Run back to life in silence –
And no more shades of yellow, mind,
The fire that wound words thrown to the sea –
Can't you hear those winged voices, the blaze of memory
Inside your time when the clock strikes one
And your night pleads innocent before her looming exile:
Trust me, no help from flesh or pleas,
Teardrops of white quartz and scraps from the sea
Lie on the stones waiting for you, some gifts for you?
Stop that rubbish, girl, they'll give you only
Infinite rooms, revolving doors, what's autumn but a witch
Who's shedding blood and life away?
So, does it work? I mean, the light blue fragrance
Scenting the playful writing of my pen?
Oh so sorry, I dunno and can't even hope so.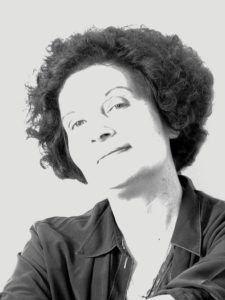 Born in Italy some decades ago, Gabriella Garofalo fell in love with the English language at six, started writing poems (in Italian) at six and is the author of "Lo sguardo di Orfeo"; "L'inverno di vetro"; "Di altre stelle polari"; "Blue branches", " A Blue Soul".


Robin Ouzman Hislop is Editor of Poetry Life and Times his publications include All the Babble of the Souk and Cartoon Molecules collected poems and Key of Mist the recently published Tesserae translations from Spanish poets Guadalupe Grande and Carmen Crespo visit Aquillrelle.com/Author Robin Ouzman Hislop about author. See Robin performing his work Performance (University of Leeds) and his latest Collected Poems Volume at Next-Arrivals