A STAND-OFF BETWEEN MAN & BEAST 

The pigeons sit, resting on the wall of
A rich old bird who owns one of the muse
Houses I back onto, and somehow I grow
Transfixed, this weed is really good I
Suddenly think, as I stand staring at them
As if they're new friends, wondering aloud
Which one will go away first.  Which will
Dessert me first, like so many others in
This sorry excuse for a life, I think as one
Moves back down the roof and out of
Sight as another turns their back to me but
The other two remain, steadfast and strong,
Staring right back at me and this stand-off
Goes on for a while, I'm maybe even more
Stoned than I think, and sure enough it's me
Who grows bored first and, as seems to be
The way of this and so many other days, I know
It's time for another smoke, another distraction.

I'M DOWN

These words came and whispered
Sweet nothings in my ear & I knew
My muse had returned.

A month, a long
Long, awful long
Month since I last sat down &
Laid the words on down
But now, at last, I'm down
Down enough to know
I've got to get this down
Before I fall any further.

TWENTY MINUTES OF GLORY

The street of ill-repute has struck again
Bringing me a diamond in the rough.  I
Was walking home, just now, from the
Laundry centre, nothing really spectacular
To report there, just another of those typical
Monthly rituals, when as I walk on heaving
All my gear behind me out the door and down
The street I run into an old bar-man I know.

 We exchanged pleasantries for a while and
I told him of my frustrations at waiting on
A call from a man up top of London Road
Waiting on a call
A call to come round
Buy something good
And be gone from there in the blink of an eye.

Today however the old bar-man came through
As I now sit here, high as I like, listening to the amazing
Miles blasting out Sanctuary
As at last my appetite returns and
In the space of twenty short minutes my life has changed
Taken a up-curve on this previously most frustrating of days.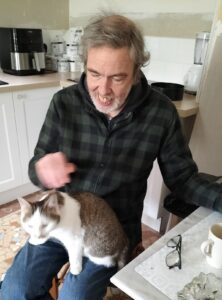 BIOGRAPHY

Bradford Middleton still lives in Brighton on England's south-coast where he works part-time in a shop and full-time on his words. His latest book, The Whiskey Stings Good Tonight, was recently published by the Alien Buddha Press. Recent poems have appeared in Cajun Mutt Press, Cacti Fur, Fixator Press, Horror Sleaze Trash, Rye Whiskey Review and the glorious Mad Swirl. He tweets occasionally @BradfordMiddle5.