Protactinium
Janet Kuypers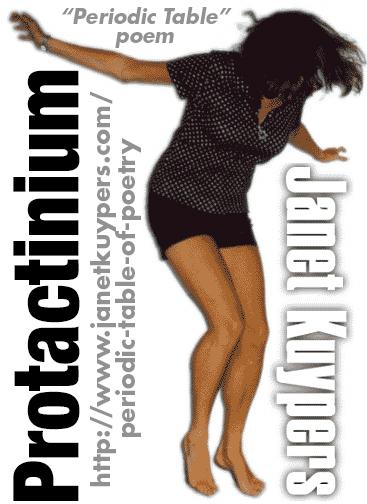 from the "Periodic Table of Poetry" series (#91, Pa)
7/1/14
Wanted to talk about P A,
element ninety one,
but gotta keep this brief,
because the first people
who discovered an isotope
of element ninety one
found it had had an
insanely short half life,
so they wanted
to name it "brevium".
Than again,
after a German scientist
found another isotope
with a much longer
half life,
they figured that maybe
they'd try "protoactinium",
because this element
is the progenitor of element 89,
Actinium, because
when element ninety one decays
and loses and alpha particle,
Actinium (element 89) is created.
But proto-actinium?
That still sounds
a little long,
maybe we can remember
that brevity
of the one isotope's
short half life
and call it
Protactinium
instead.
But really,
this stuff's radioactive
and highly toxic,
and no one has found
a single use for this element
besides maybe scientific research.
But right now they've discovered
when measuring the ratios
of Protactinium and Thorium isotopes
in ocean sediments, they can
reconstruct the movements
of bodies of North Atlantic water
during the melting of the last ice age.
Kind of cool.
But an ice age can take
millions of years.
Hardly brief,
like the first isotope
discovered of Protactinium.
But who knows,
maybe if Protactinium
is only good to us humans
for scientific research,
maybe we will
start to learn some cool stuff
about Earth's past —
and maybe Earth's future —
thanks to a brief little element
we otherwise have no use for…