I'm driving down Main Street.
My wife is in the passenger seat.
A beautiful young woman
in tight dress and high heels
is sashaying along the sidewalk.
How do I look
and yet not appear to be looking?
That is a question that often arises.
It came up the time
when I first saw my wife.
I was sitting in a coffee shop
and she was at the next table.
My book was open.
It was "Tender Is The Night:"
by F Scott Fitzgerald.
That novel and I
were married at the time.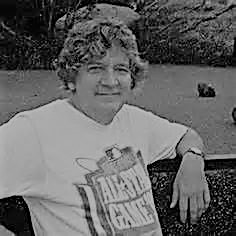 John Grey is an Australian poet, US resident. Recently published in the Homestead Review, Harpur Palate and Columbia Review with work upcoming in the Roanoke Review, the Hawaii Review and North Dakota Quarterly.






Robin Ouzman Hislop is Editor of Poetry Life and Times his publications include All the Babble of the Souk and Cartoon Molecules collected poems and Key of Mist the recently published Tesserae translations from Spanish poets Guadalupe Grande and Carmen Crespo visit Aquillrelle.com/Author Robin Ouzman Hislop about author. See Robin performing his work Performance (University of Leeds) and his latest Collected Poems Volume at Next-Arrival