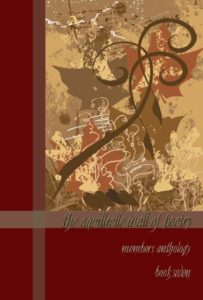 The Aquillrelle Wall of Poetry Members Anthology, book seven ©2018

Friends, poets,

Aquillrelle's Anthology Wall7 is now released and published in both Ebook/PDF and Paper formats. It can be purchased on Lulu (and a couple of months from now also on Amazon, etc.).

Many thanks to the participants and to the supporters, it was hard yet gratifying work. Enjoy your (and your friends') art!

The seventh wall. Some graffiti. Some works of art. Even some smudges included since they hold a message to be heard. Because this is the essence of every Aquillrelle wall – let everyone who values his/her word get a piece of the wall to themselves. You, the readers, are the beneficiaries. Read!



The poem included below is an excerpt from the above reviewed anthology

Elliptical Shift by Robin Ouzman Hislop


Meadows of wild flowers
sweet in an urban niche
framed by a hand of nostalgia
framed in an enclosure

for the price of pathos
riots of the human race
rampage across its space
in resistance, resentment

everywhere history obscures the view

an enigmatic phantom
it projects its rapacious plans onto tomorrow
McDonald's signs, stewards of the planet, protein signifier

regularities merge into a wholeness
the news comes on, in a refrain of the same monotone
as if the world were made new again.

*

The darkest regions of the planet's mind
the photon of a star in a formless moment
becomes an instance of a memory
as the desert invites the ripple
to a turbulence of refrain
a window frame constrains
its world view to all that follows on

as if it could choose between what's real
what's imaginary

such choices, shape our view
to the now, before an open future

*

sunset on the high street, traffic
vanishing into it like black dots
whizzing out of the blind, the zonk
plonk, disappearing into its shadow

dust of ages, its record

all the particles cascading
into the horizon's viewpoint
all the bits, pieces in their parts
blowing on the horizon's sunset

Time is not the shadow cast by the world
the world is the shadow cast by time

(excerpt from All the Babble of the Souk)


To order: http://www.lulu.com/shop/Aquillrelle/The Aquillrelle-Wall of Poetry Book Seven/paperback/

e-book: http://www.lulu.com/shop/Aquillrelle/The Aquillrelle Wall of Poetry Book Seven/ebook/




Robin Ouzman Hislop is Editor of Poetry Life and Times his publications include All the Babble of the Souk and Cartoon Molecules collected poems and Key of Mist the recently published Tesserae translations from Spanish poets Guadalupe Grande and Carmen Crespo visit Aquillrelle.com/Author Robin Ouzman Hislop about author. See Robin performing his work Performance (Leeds University) .