Darmstadtium
Janet Kuypers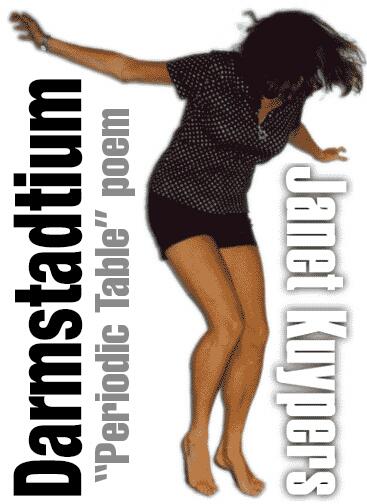 from the "Periodic Table of Poetry" series (#110, Ds)
started 10/14/13, finished 10/15/13
Element one one zero
in the periodic Table,
Darmstadtium,
originally didn't have a name,
so when the scientists
gave a space-filler name
to element one one zero
they gave props
to the Greeks and Latins
by calling it
Ununnilium.
I'm sure it's said
oon – un – nil – ee – um,
or maybe oon – un – neel – ee – um,
but knowing a thing or two
about the town of Darmstadt
during the Nazi regime,
I'm tempted to call it
oon – un – nile – ee um.
Oon – un-nihliate.
Get that heavy water
into the hands
of Nazi Germany,
and you'll understand
the word play.
#
When Nazis took power in Germany,
Darmstadt was the first city
to even force Jewish shops to close.
German scientists knew
they could use "heavy water"
in an effort to make a nuclear bomb…
And when the allies bombed
the Nazis in nineteen forty-three
the air raid forced Nazis to move
all of their "heavy water"
to Germany for protection
(at places like Darmstadt,
where the super-heavy element
Darmstadtium was later discovered).
Then again, prominent members
of the German resistance
against the Nazis
were citizens of Darmstadt.
And Darmstadt is where the
big German accelerator is situated…
The GSI Heavy Ion Research Centre
is in Darmstadt, and elements
are discovered there
(like Darmstadtium). You see,
they had to make Darmstadtium
in this big machine
just to discover it, because
this synthetic element
isn't even present
in the environment at all.
I mean, we've only been able
to make just a few atoms
of the super-heavy Darmstadtium…
But then again,
from what we could tell,
it's insanely radioactive,
has an insanely short half life,
and no stable isotopes.
With all going against the nature
of Darmstadtium, it's no wonder
that there isn't even much concern
over guessing it's potential physical
and chemical properties.
With such a short half life,
there's no point in wondering
about the effect it might have
on the human body
or even on the environment,
because it just instantly decays
into lighter elements instead.
With such a short half life,
we'd have to slow down time itself
to even confirm it's potential
silvery-white luster.
Hmmm, slowing down time itself.
Maybe that's what we'd have to do
to learn a thing or two
about you,
Darmstadtium.
Because with your
history of instability,
with such short amounts of you
creating only a flash of damage,
we'll let others wonder
about the potential for
oon-un-nihilation
before we truly
learn a thing
or two.