Technetium
Janet Kuypers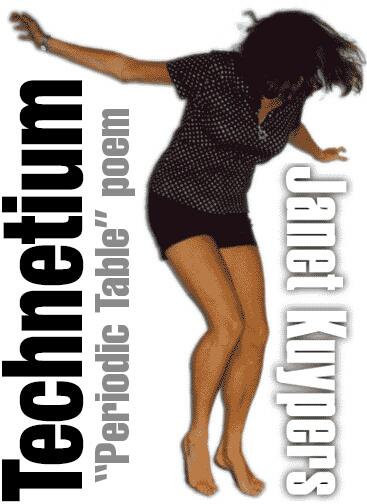 from the "Periodic Table of Poetry"" series (#43, Tc)
7/10/13
You're named from the Greek word for "artificial",
because you were the first element man ever made…
We wanted to discover, we wanted to find you out —
we'd even create you if this was the only way.
We can only find you after your brethren
have been broken apart to reveal you. But the thing is,
your name is a bit misleading, though, since
you can be found naturally, albeit in trace amounts.
Though it's funny, we searched for you for so long,
and now we discover that you're a by-product
of our nuclear power stations. Then everyone thought
we wouldn't know what to do with nuclear waste.
You've been put into the environment as
"low-level-waste" for nearly half a century,
but what I've learned is that doctors inject
small amounts of you into patients with tumors,
so they can see exactly where they need to heal people.
People wondered what we'd do with our nuclear waste,
but now you're used in 20 million medical procedures
each year, because your short half-life makes you safe
and the way you decay helps doctors see
exactly what they need to do to save a life.
And yeah, you're nuclear waste injected into a human,
but they need such a small amount that radiation is low.
It's hard to believe that we searched for you for so long,
and now that you're injected into 20 million patients —
in North America alone — every year,
it's good that we finally found you out.