This work comprises in an excerpt from the anthology on contemporary Spanish female poets entitled Las Diosas Blancas. Madrid, 1985. Copyright Ed. Ramon Buenaventura. Hiperion. This is an original and unpublished English version of the original poem written in Spanish. Translators Robin Ouzman Hislop and Amparo Arrospide would like to thank Casa del Traductor, in Tarazona and the British Literary Translation Association, East Anglia University Campus.

From this Spanish anthology –compiled by the well-known scholar and translator Mr. Ramón Buenaventura, whom we contacted earlier– a few selected authors were chosen for our joint translation work: Amalia Iglesias: Te buscare para decirte (I Will Find You To Tell You) , Ana Rossetti: Triunfo de Artemis sobre Volupta (Triumph Of Artemis Over Volupta) and Isolda (Isolda) , Blanca Andreu: Para Olga (For Olga) , Isla Correyero: Los Pajaros (Small Birds), Amparo Amoros: Midas (Midas) and Criaturas del gozo (Creatures Of Joy) , Rosalia Vallejo: Horno en llamarada (A Furnace In Flames) , Maria del Carmen Pallares: Sisargas (Sisargas), Margarita Arroyo: Era el mar lejos del mar ( It Was Sea Away From Sea).

We would like to thank Mr. Ramón Buenaventura and the above name poets, in advance, and let them rest assured that their work is protected by a legal Creative Commons Licence, by virtue of which the above named translators are willing to provide excerpts from their original translation work, provided that readers agree to use it under the terms of such licence. We strongly recommend reading the entire work and the poets', who have continued evolving during these decades.


I question in your mirror, inimitable age,
in which of my innumerable
larders is the mask of the goddess,
which once shadow covered marbles.

Your ardor, such obsessive ecstasy,
made her lovely and distant and proclaimed her alone.
Not with standing the times she abused you all!
Her tongue so cruel was as a whip lash.
Behind the balconies she spied eagerly
denying supplicant eyes
if any of your desires were presumptive.

She granted none of you a single thread of her tunic,
not even as much as to stir its beads.
None of you were able to peep through a keyhole
to see how parsimoniously she disrobed herself
letting her nakedness grow from the bath.
A vapor of dark vine climbing, a hand reaching
its sponge, fragrant foam crawling
over and into her body,
establishing her invisible supremacy.

None of you drank from the fountains of ambrosia
that flooded the turbulent labyrinths
sealed by a malign virginity, nor knew
her shaded armpits, the luxuriant pelvis tortoise shell,
her plaited hair, nor the kind touch of those fingers
that I know so well, but how you love her!

None of you heard her shout when the din of pleasure
happened and tumultuously overflowed the cleft cupola,
but the memory of her hurtling downwards assaults
all of you and in me you seek her. How terrible and
inimitable age. I am forever questioning your mirror.

I want to be reborn in that ancient persona
that fascinated all of you, that body so unknown,
if such a metamorphosis were at all possible.

So now you know in which exact
pores of my skin Eros is concealed,
and the secrets surprised by your skilful
mouths spread out on the bed sheet.

Yielding, my legs will bind yours,
fastening for that total assault on my
thrust womb to burn there.

Now I am a habit,
an invaded homeland of routine pleasures.
By possessing me you lost my inner beauty
and your desires themselves have vanished.

But if you all help me
to search for the forgotten tunics
in the larders and restore the propitious mask,
if I return arrogant will I be able to convince you?

Experience is so sagacious,
so indestructible its mandate
that I far surpassed you.
I could even destroy you and you reproach me for it.

Inimitable age,
where the gods dwelt
and admiration was the sole tribute
you would lay at my feet. Do not ask me
to return, since innocence is irrecoverable.



TRIUNFO DE ARTEMIS SOBRE VOLUPTA

Edad inimitable, a tu espejo interrogo
en cuál de mis innumerables
alacenas está la máscara de diosa
que de oscuro los mármoles cubría.

Vuestro fervor, tan obsesivo éxtasis,
la hizo hermosa y distante y la proclamó única.
Sin embargo, ¡tantas veces os maltrató!
Su lengua tan cruel como un látigo era.
Tras de los balcones atisbaba ansiosa
y a los suplicantes ojos se negaba
si de vuestros deseos tenía certidumbre.

No os consintió ni una sola hebra de su túnica,
ni tan siquiera que hurgárais entre sus collares.
No pudisteis, a través de una cerradura,
mirar cómo parsimoniosa se desvestía
haciendo crecer su desnudo desde la bañera.
Vaho de enredadera gris. La mano recurriendo
a la esponja. Y la fragante espuma, reptando
por su cuerpo, en él se introduce
instalando su invisible dominio.

No bebisteis tampoco en las sabrosas fuentes
que anegaban los turbios laberintos
que una maligna virginidad clausuró.
Ni las sombrías axilas, ni la frondosa concha
de la pelvis, ni la entrelazada cabellera
supieron del amable tacto de esos dedos
que conozco tan bien. ¡Pero cuánto la amáis!

No la oísteis gritar cuando el estrépito
del placer os sobrevino y tumultuosamente
desbordó la hendida cúpula.
Mas el recuerdo de ella, precipitándose,
os asalta y en mí la buscáis. Qué terrible
inimitable edad. Siempre a tu espejo interrogando.

Intento renacer, antigua identidad
que os fascinaba, aquel cuerpo tan desconocido,
si es que es posible tal metamorfosis.

Sabéis ya en qué precisos
lugares de mi piel Eros se asienta;
los secretos, derramados por la colcha,
por vuestras hábiles bocas sorprendidos.

Rendida, mis piernas fuertemente a vuestras piernas
enlazarán para que la total arremetida
a mi vientre penetre y arda en él.

Ahora soy costumbre,
invadida patria de rutinarias delicias.
Al poseerme perdisteis mi belleza interior
y se os han desvanecido los deseos.

Mas si me ayudáis a buscar
en los armarios las túnicas olvidadas
y a rescatar la máscara propicia,
si me vuelvo arrogante, ¿os podré convencer?

Tan sagaz es la experiencia
y tan indestructible su mandato
que os sobrepasé largamente.
Incluso os destruiría. Y me lo reprocháis.

Edad inimitable,
donde los dioses habitaban y era
la admiración el único tributo
que a mis pies esparcíais.
No me pidáis que vuelva,
pues la inocencia es irrecuperable.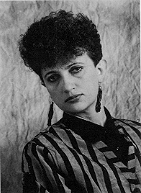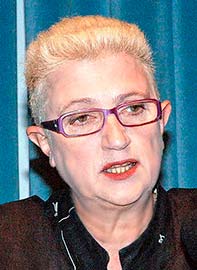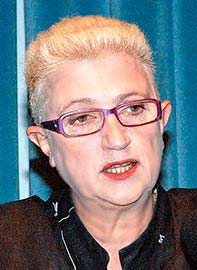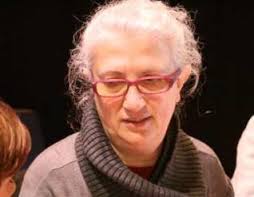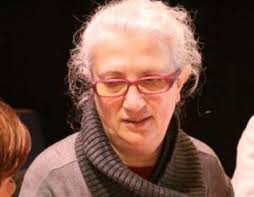 ANA ROSSETTI is a Spanish poet from Cádiz, who has been prominent on the Spanish literary scene for over 32 years. Since her remarkable voice burst on the Spanish cultural scene during the 1980s as a stage performer, she has become known in some circles as the "Madonna of Spanish Letters." Besides poetry, Rossetti has dabbled in most genres including fiction, essay, drama, children's literature and opera; and has collaborated with visual artists, popular singers and fashion designers. Her most well-known poetry collections include Los devaneos de Erato (Premio Gules, 1980), Indicios vehementes (1985), Yesterdays (1988), and Punto Umbrío (1996). For her book Devocionario, Rossetti received The III International Poetry Prize, Rey Juan Carlos I.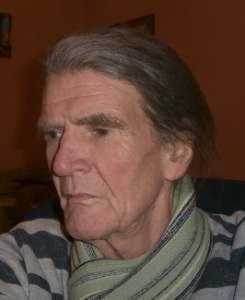 Robin Ouzman Hislop Editor of the 12 year running on line monthly poetry journal Poetry Life and Times. (See its Wikipedia entry at Poetry Life and Times). He has made many appearances over the last years in the quarterly journals Canadian Zen Haiku, including In the Spotlight Winter 2010 & Sonnetto Poesia. Previously published in international magazines, his recent publications include Voices without Borders Volume 1 (USA), Cold Mountain Review, Appalachian University N Carolina, Post Hoc installed at Bank Street Arts Centre, Sheffield (UK), Uroborus Journal, 2011-2012 (Sheffield, UK), The Poetic Bond II & 111, available at The Poetic Bond and Phoenix Rising from the Ashes a recently published Anthology of Sonnets: Phoenix Rising from the Ashes. He has recently completed a volume of poetry, The World at Large, for future publication. He is currently resident in Spain engaged in poetry translation projects.


robin@artvilla.com
PoetryLifeTimes
Poetry Life & Times
editor@artvilla.com
www.artvilla.com
Artvilla.com