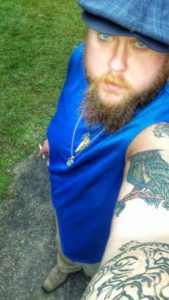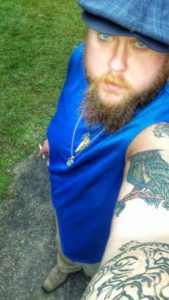 Bus fare destinations
Falling short
All these haunts of
Clockwork Orange
Dreams

Living behind
Courteous lies
That subdue the imagination
Waking up
A whole new
Creature

No home to speak of
Wearing travelers boots
And coins on eyelids
Fighting and fucking
My way through life
With no direction
Or destination

Blood made of whiskey
Lungs made of ash
There's plenty to go around
When you live
In a dirty ditch
Feeling like nobody
Wanting to be somebody


©James Dennis Casey IV


​
James D. Casey IV is a self published author of three volumes of poetry: Metaphorically Esoteric, Dark Days Inside the Light While Drunk on Wine, and Tin Foil Hats & Hadacol Coins. His work has been featured in print and online both nationally and internationally by several literary venues including Triadæ Magazine, Poetry Life & Times, Pink Litter, In Between Hangovers, Indiana Voice Journal, Beatnik Cowboy, Dissident Voice, Scarlet Leaf Review, Horror Sleaze Trash, Zombie Logic Review, Your One Phone Call, I am not a Silent Poet, Tuck Magazine, and Outlaw Poetry to name a handful. Links to his books, social network profiles, and other projects can be found on his website: http://louisianakingcasey.wixs ite.com/big-skull-poetry

​Rev.James Dennis Casey IV Ordained Dudeist Priest at Dudeism, the Church of the Latter-Day Dude


Robin Ouzman Hislop is Editor of Poetry Life and Times his publications include All the Babble of the Souk and Cartoon Molecules collected poems and Key of Mist the recently published Tesserae translations from Spanish poets Guadalupe Grande and Carmen Crespo  visit Aquillrelle.com/Author Robin Ouzman Hislop about author.  See Robin performing his work Performance (Leeds University) .