The_Comfort_of_Strangers_Arguing.avi.


For years
I've not dared
sleep in bed,
for there alone
through the window
a wind has whistled
in my ears,
and death's next
of kin soon appears
to collect my arrears.
Since then, I've slept
in the living room,
prison and womb
and soon enough my tomb.
And if silent,
the night remained
the season of unreason
and conscience torn,
then a murderous treason
was expected
and nightly born.


In the day,
I never saw the neighbors,
not one, nor the sun,
whether rising or falling
or while passing above
the hours between.
Instead, I'd seen
the suggestion of light,
a blunted gleam.


Nevertheless, upstairs
there was one
friend, of sorts,
the last of my resorts,
disembodied, of course,
but at least
the occasional voice
of a beast.
One night, I thought
he'd found time
to pause and make a rhyme
and shouted it, too.
In the words of my neighbor:
"How could you waver,"
"one moment the mother of my child,
"the next sparing yourself
"the bother of your labor?"
But I had made his meaning mine
from words that had stalled
somewhere between the walls,
and as consonants raged,
I wrote another page
for a play I had completed
and too many times staged.


Even now,
the one, the other,
the girl on the phone,
is prone
to regretting her leaving
a dial tone
for his grieving.
When the telephone rings,
I await the sound
of mattress springs.
He never lasts long.
I know his usual song
will give him an angle
to escape his sense
that something within him is wrong.
Breaking the spell, he sings to the angel
he now thinks a witch: "If only I'd thrown
"a better bone to that bitch."


He like, me, will recall his abuses
conducted out of sight
like cabooses.
How long the train of excuses.
How great the weight
of what lies behind,
burdens carried
in back of the mind,
for thousands of miles forgotten,
yet from the beginning, the cargo
already rotten.


Some time later, I pulled my train
of thought to a stop at the station,
for I was interrupted by revelation:
A neighbor's words once mine,
anger spoken in another time,
to someone else long ago,
silenced, too, by dial tone,
the slamming of the phone,
shooting stars in my eyes,
a conspiracy
of regretting
I'd revealed to myself
so many times
that it now concealed
I was rotting by forgetting
all those miles
I'd carried
the weight of decades-ago
unloaded freight.


My next stop
was a candled cathedral,
and I returned to that place
where for years
something in me burned,
the suggestion of a darkness
that would never be turned,
as if I'd not learned
that for which I yearned
always returned, whereby
I was moved
close to perfection.


My endless confessions
rose from their knees
and demanded my secession
from nostalgia's concessions
and regret's intercessions.
With match, I set fire
to their airy alliance.
In defiance
I inhaled
the smoke of the past,
then exhaled my silence.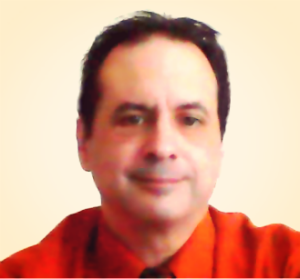 My bio: Paul A. Toth is the author of four novels, including his 9/11 based Airplane Novel (2011), noted by ​​USA Today as the 4th Best Independent Novel of 2011. His latest is Let's Go Shopping, The War Is Over, a collection of his best short stories. He is also the founder and publisher of Eye Am Eye Books


[email protected]
PoetryLifeTimes
Poetry Life & Times
[email protected]
www.artvilla.com
Artvilla.com