Princeps Tenebrarum*
Lamerán sus tobillos las sombras de la noche
cuando termine el baile, e hipnótico te mire:
le pides que te rasgue con la carne de un beso
y anhelarás su cuerpo, su cuerpo que no está.…
como serpiente al tronco ciñéndose, centauro,
mientras tú te despiertas del trance más profundo,
pasajera en su jungla, en su abrazo mortal.
Y desearás morirte, brillantes las pupilas,
y lucharás a muerte contra la muerte lenta
que quiere emponzoñarte y era sólo el desliz,
el deslizarse lento de su lengua en tu boca,
que muda la rehúye, aterida y reptil,
el arrastrarse sabio de la marea alta,
desangrándose en semen, tiempo, y poco más.
 *Latín= Príncipe de las tinieblas
 Princeps Tenebrarum *
The shadows of the night will be caressing his ankles
when the dance ends and he stares at you hypnotically
and you ask him to tear you open with a carnal kiss,
whilst longing for his body, a body no longer there…
but entangled like a serpent on a trunk, a Centaur,
and there you had been awoken from the profoundest trance
to travel in his jungle caught in his lethal embrace,
and where you will want to die in the brilliance of your eyes.
And there you will struggle against death, against a slow death
that wants to poison you, and it was only that, that slip
that slidingly slipped slowly its tongue down into your mouth,
coldly reptilian, which shunning you mutely refused,
as in the wisdom of high tide receding from the shore,
departs, leaving only bleeding, semen and little else.
* Latin = Prince of Darkness
Translated from Amparo Arróspide's Princeps Tenebrarum
by Robin Ouzman Hislop Editor of Poetry Life & Times

This sonnet together with its translation appeared in The Phoenix Rising from the Ashes: Exciting new sonnet anthology edited by Richard Vallance now available on Barnes & Noble: Phoenix Rising from the Ashes BN ID: 2940148833628 Publisher: FriesenPress Publication date: 11/20/2013 Sold by: Barnes & Noble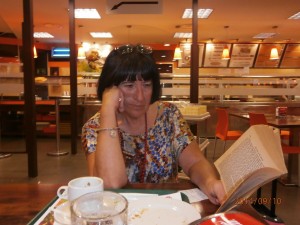 Amparo Arrospide (Argentina) is a Spanish poet and translator. She has published four poetry collections, Mosaicos bajo la hiedra, Alucinación en dos actos y algunos poemas, Pañuelos de usar y tirar and Presencia en el Misterio as well as poems, short stories and articles on literary and film criticism in anthologies and both national and foreign magazines. She has received numerous awards. Together with Robin Ouzman Hislop, she worked as co-editor of Poetry Life and Times, an E-zine.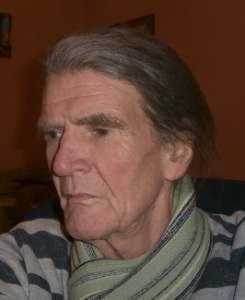 Robin Ouzman Hislop Editor of the 12 year running on line monthly poetry journal Poetry Life and Times. (See its Wikipedia entry at Poetry Life and Times). He has made many appearances over the last years in the quarterly journals Canadian Zen Haiku, including In the Spotlight Winter 2010 & Sonnetto Poesia. Previously published in international magazines, his recent publications include Voices without Borders Volume 1 (USA), Cold Mountain Review, Appalachian University N Carolina, Post Hoc installed at Bank Street Arts Centre, Sheffield (UK), Uroborus Journal, 2011-2012 (Sheffield, UK), The Poetic Bond II & 111, available at The Poetic Bond and Phoenix Rising from the Ashes a recently published Anthology of Sonnets: Phoenix Rising from the Ashes. He has recently completed a volume of poetry, The World at Large, for future publication. He is currently resident in Spain engaged in poetry translation projects.


robin@artvilla.com
PoetryLifeTimes
Poetry Life & Times
editor@artvilla.com
www.artvilla.com
Artvilla.com