门与门
我一直注视着一个人,一个陌生人
我在楼梯口遇见过他,他打开了一道门
正是冬天,我正在浴盆中洗澡的时刻
这个人的眼睛在一开始的时候就装满了
Doors
I have been watching a man, a stranger
I met him at the stair-head, he opened a door
In wintertime when I was in the tub
He came to me from somewhere entering
Eyes filled with doors; hospital doors, cemetery doors
Passing the night standing outside the
Quiet door of a small town, hiding a Spanish
Horn knife in his left hand, horror story in the right
Bottle of wine in his pocket and a photo of a beloved woman
I caught a glimpse of this man who asked
Me to open the door; in no hurry, door
Pushed open from reality I woke into
Dreamland confined when again a door pulled
Me from dreamland to a corner of reality.
***
Ma Li is a contemporary poet, painter and essayist. She is also the chief editor of the writing column of South Weekend, the most famous and widely issued weekly newspaper in China. She was born in the seaside town Zhanjiang in 1960. She began to write poems in the 1980's, and essays in 1990's. She is a member in the Chinese Writers Association. She has published several poetry collections, like "Ma Li Poetry Collection," and "Ma Li's Golden Sonnet," the latter which won first prize in the "Chinese New Classic Poem Award" competition in 2007. In addition, she has published several essay collections and held her own art exhibition.
Tang Yao comes from Xuzhou, China. At present she lives in Nanjing. Her area of specialization is foreign and applied linguistics. She focuses on translation both from Chinese to English and from English to Chinese, and has co-translated two books from English to Chinese. She has also done research on the translation of ancient Chinese poems.
Howard Giskin has taught in the Department of English at Appalachian State University since 1989. He works mainly in the area of World Literature, with particular interest in Asian culture, literature and philosophy, as well as Latin American literature. He has co-edited An Introduction to Chinese Culture through the Family (SUNY Press, 2001), and has edited a volume of Chinese folktales (NTC / Contemporary, 1997), as well as written articles on Argentinean writer Jorge Luis Borges, and published poetry. His interests also include the intersection of the sciences and humanities. He has taught in Asia, Africa, Europe and Latin America, and lives with his wife Vicki in Millers Creek, North Carolina.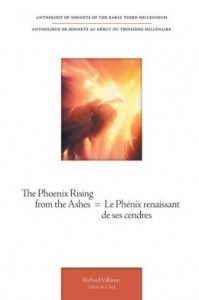 Ma li's Sonnet Doors in its original Chinese text together with its translation by Tang Yao and Howard Giskin appear in The Phoenix Rising from the Ashes: Anthology of sonnets of the early third millennium= Le Phénix renaissant de ses cendres : Anthologie de sonnets au début du troisième millénaire –at Friesen Press. ISBN: Hardcover: 978-1-4602-1700-9 Paperback: 978-1-4602-1701-6 eBook: 978-1-4602-1702-3.
http://vallance22.hpage.com