A hard rain pelts down
Graying the sky to charcoal
The Quay is deserted,
And somehow out of key.
I stand at the guard rail,
Collar pulled tight,
Staring at the cold river.
The wind whirls and swirls
Inviting the river into its frenzy.
The river resists, then slowly submits.
Small ripples at first
Cresting to waves;
Synchronicity somehow present
In this simple chaos.
A young girl
In a pink fleece Parka
And well worn Mukluks
Passes by;
Her eyes as vague
As fading winter sparks
The day dissolves
Night chews on the last remnants
Of a non-descript twilight.
Appetite sated,
She licks her lips
And the thunder rolls
In the bruised atmosphere
Of a hard, hard rain

2 Poets Laureate — New Westminster Poet Laureate Candice James and Canadian Parliamentary Poet Laureate Fred Wah at Royal City Literary Arts Society Setp 22, 2013 membership drive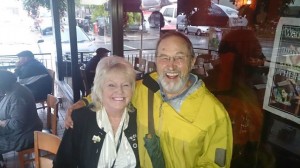 ***
Poet Laureate, New Westminster, BC
President, Royal City Literary Arts
Honorary Professor International Arts Acadamy, Greece
Board Advisor, Interantional Muse, India
Board Advisor, Federation of British Columbia Writers
Candice James is Poet Laureate of New Westminster, B.C. and President of Royal City Literary Arts Society. She is a poet, musician, songwriter and author of six poetry books A Split In The Water (Fiddlehead 1979);Inner Heart―A Journey; (2010), Bridges and Clouds (2011); Midnight Embers–A Book of Sonnets (2012); Shorelines-A Book of Villanelles (2013); and Ekphrasticism (2014).   Websites: http://saddlestone.shawwebspace.ca   and  www.candicejames.com
www.facebook.com/PoetryLifeTimes