Poet Gary Beck's new collection Virtual Living is a revealing glimpse of how our relationship with the world around us is an ever-evolving experience. Focusing on how humans relate to the world via artificial means, as well as self-imposed affected mechanisms. Beck looks at the concept of living virtually from all angles and tells his story with just enough abstractness to move readers to choose how to inhabit their own worlds. A peek into our world in ways most of us forget to see, these poems will shift any reader's perspective of how they relate to others, technology and the world.

"Varied, inspiring and insightful – Nous Magazine

"We love your poems – Poetry Pacific

"Amazingly captivating and incredibly diverse – Kind of a Hurricane Press

Virtual Living is a 116 page poetry book. ISBN: 1945247134 Published through Thurston Howl Publications.
Available now through all major retailers

Amazon.com Virtual Living Gary Beck

Birdsong

The closer the highway
the closer to death,
so build your nest
as far as you can
from works of man.

Sports Fans

High school students cheer
at the top of their lungs
for their football team,
unaware of
the math student
ignored by all
who may build the future,
while former sport's heroes
dwell in the past,
unable to forget
earlier glory.

College students root
for the home team,
eager to belong
to a bigger world,
paint their faces
in school colors,
identifying with
an institution
encouraging sports
more than science,
relegating the brightest
to unrequited dreams
of supple cheerleaders.

Many football fans
either yearn for the past,
or never grew up.
Some fear the future,
apprehensive of
the loss of function,
try to belong,
rooting for their team.
Others don't realize
pros are as distant
as movie stars,
except they hurt each other
for large salaries,
while loyal fans
wear stupid hats,
wave witless signs,
scream for victory
for favorite teams.

Mindscape

Dreams shatter,
more fragile
than steel, brick, glass
man-made materials,
confining spaces
for the mental container
of hopes, fears, guilt,
unlike other animals
whose sleep exertions
re-enact feeding, flight.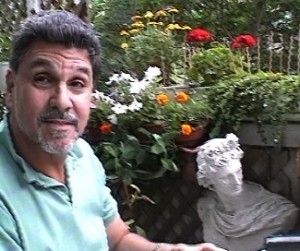 Gary Beck has spent most of his adult life as a theater director, and as an art dealer when he couldn't make a living in theater. He has 11 published chapbooks and 2 more accepted for publication. His poetry collections include: Days of Destruction (Skive Press), Expectations (Rogue Scholars Press). Dawn in Cities, Assault on Nature, Songs of a Clerk, Civilized Ways, Displays, Perceptions, Fault Lines & Tremors (Winter Goose Publishing). Perturbations, Rude Awakenings and The Remission of Order will be published by Winter Goose Publishing. Conditioned Response (Nazar Look). Resonance (Dreaming Big Publications). Virtual Living (Thurston Howl Publications). His novels include: Extreme Change (Cogwheel Press), Flawed Connections (Black Rose Writing), Call to Valor (Gnome on Pigs Productions) and Sudden Conflicts (Lillicat Publishers). State of Rage will be published by Rainy Day Reads Publishing. His short story collection, A Glimpse of Youth (Sweatshoppe Publications). Now I Accuse and other stories will be published by Winter Goose Publishing. His original plays and translations of Moliere, Aristophanes and Sophocles have been produced Off Broadway. His poetry, fiction and essays have appeared in hundreds of literary magazines. He currently lives in New York City.

www.garycbeck.com
www.facebook.com/AuthorGaryBeck



Cartoon-Molecules/paperback/Robin Ouzman Hislop

www.facebook.com/PoetryLifeTimes

robin@artvilla.com