&nbsp
Motifs is an unpublished poetry collection that looks at instances in the human experience Gary Beck

(i)

Hard Times

On many street corners
of my fair city
the homeless sit
resources exhausted,
the tattered cardboard signs
requesting aid
the last connection
between abandonment
and termination,
alternate options
totally expended.

(ii)

Sustained

I do not need
intimations of mortality,
my frailty so burdensome
I never forget
each day a miracle
of continuation,
for which I give thanks
that I can still function
and appreciate beauty,
weeping willow, Beethoven,
the wondrous creations
of man and nature

(iii)

First Contact

Several times daily
I look up at the sky
expecting an alien spaceship
to suddenly appear.
Logically it shouldn't be
invaders or traders,
but eager explorers
urgent for discovery.
If we are fortunate,
their advanced technology
will stimulate our sciences
for rapid innovation,
so when the merchants and soldiers
arrive for the next visit
we are not as ill prepared
as primitive tribesmen
who were devoured
by Western appetites.

(iv)

Machine Learning IV

The latest business venture,
the Discreet Android Delivery Service,
satisfaction guaranteed,
all major credit cards accepted,
all languages spoken,
will open a new window
to A.I. profit.
Preliminary surveys
indicate a big market,
as long as the company controls
proprietorial software.
They've vowed great rewards
or dire punishment
to employees
to maintain secrecy.
Prospects are glittering
and to encourage clientele
corporate accounts welcome.
still enriching my life.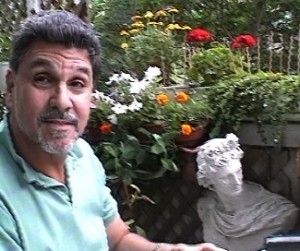 Gary Beck has spent most of his adult life as a theater director and worked as an art dealer when he couldn't earn a living in the theater. He has also been a tennis pro, a ditch digger and a salvage diver. His original plays and translations of Moliere, Aristophanes and Sophocles have been produced Off Broadway. His poetry, fiction and essays have appeared in hundreds of literary magazines and his published books include 26 poetry collections, 10 novels, 3 short story collections, 1 collection of essays and 1 collection of his one-act plays. Published poetry books include: Dawn in Cities, Assault on Nature, Songs of a Clerk, Civilized Ways, Displays, Perceptions, Fault Lines, Tremors, Perturbations, Rude Awakenings, The Remission of Order, Contusions and Desperate Seeker (Winter Goose Publishing. Forthcoming: Learning Curve and Ignition Point). Blossoms of Decay, Expectations, Blunt Force, Transitions, Mortal Coil and Temporal Dreams (Wordcatcher Publishing, Forthcoming: Redemption Value and Fractional Disorder). Earth Links and Too Harsh For Pastels (Cyberwit Publishing: Forthcoming: Severance). His novels include a series 'Stand to Arms, Marines': Call to Valor, Crumbling Ramparts and Raise High the Walls (Gnome on Pig Productions). Acts of Defiance, Flare Up and Still Defiant (Wordcatcher Publishing. Forthcoming: Until the Bell and Pirate Spring). Extreme Change will be published by Winter Goose Publishing. His short story collections include: A Glimpse of Youth (Sweatshoppe Publications). Now I Accuse and other stories (Winter Goose Publishing) Dogs Don't Send Flowers and and other stories (Wordcatcher Publishing). The Republic of Dreams and other essays (Gnome on Pig Productions). The Big Match and other one act plays (Wordcatcher Publishing, Forthcoming: Collected Plays of Gary Beck Volume 1 and Four Plays by Moliere – Translated and Directed by Gary Beck)). Plays of Aristophanes will be published by Cyberwit Publishing. Gary lives in New York City.




Robin Ouzman Hislop is Editor of Poetry Life and Times ; You may visit Aquillrelle.com/Author Robin Ouzman Hislop about author. See Robin performing his work Performance (University of Leeds)