Strategically stressed denim garnished by
random sweatshop tailored holes
adorn wafer thin sheaths that
bond practicality and beauty,
encase the streetwise goddess's
thighs—accentuate long legs,
enhance airy, sylph-like movements, while
her satin skin peeks through weathered threads
rises above, basks through the frayed fabric's weave,
when early morning's warming rays touch
her strapless back, kiss soft shoulders,
bathe them in deep, moist, honey breaths.

The cyber Madonna fingers fine pearls,
plucked from the buxom ocean's bosom,
like meditation beads,
gives every cultured orb an identity, blesses and
eternalizes each mollusk's enterprise; the
world begs to be her cybernetic oyster, so
she invites men and women to
text her, tweet her, love her; horny, she
longs for enduring chat room romances…
as she types, her heart hangs over parted lips
like an engorged keystones above
Aphrodite's passionate arches.

Environmentally friendly lifelines
hold their shape then creep like
molasses along a steamy plain:
dignified, resolute, as determined as
the sheer force of gravity,
she bends her elbows, folds her arms,
camouflages self-consciousness solemnity
as loving as a preying mantis's gaze
whose frozen posture like an invisible cloak
becomes one with surroundings—
cautious as a vigilant caretaker
guarding the tomb of an unsung savior.

All want to lie in the virgin's lap
while she cradles tired heads in the
deep valley of her skirt, connecting
without speaking, a million miles
from another's thoughts, yet
united in a common denominator:
transcendental intimacy—calculable regret; the
Madonna stokes each lover's hair that
settles across her body as if petting
an exquisite ermine or sable stole, while
every race, color, gender, creed, lifestyle
coax another Immaculate Conception or ascension.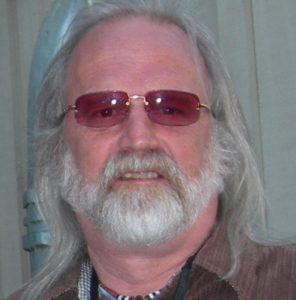 Sterling Warner's Brief Biography

An author, poet, educator, Sterling Warner's poems have appeared in many journals and anthologies, including The Flatbush Review, Literary Yard, The Fib Review, "Street Lit: Representing the Urban Landscape and The Atherton Review. Warner has published five collections of poetry: Without Wheels, ShadowCat, Rags and Feathers, Edges, and Memento Mori: A Chapbook Redux.





Robin Ouzman Hislop is Editor of Poetry Life and Times ; You may visit Aquillrelle.com/Author Robin Ouzman Hislop about author. See Robin performing his work Performance (University of Leeds)