Between brief interludes and hypnotic sensations,
Your name orbits around all temptations… 

Lost between the verbs and all translations, 
Your fingertips orchestrate my own salvations…

Like a karmic explosion imbued with incantations, 
You came to show me the quantum fascinations…

(Anca Mihaela – 15th February 2014)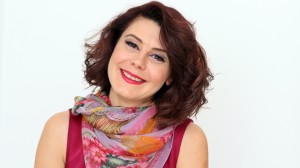 Anca Mihaela Bruma – Short Bio

My name is Anca Mihaela Bruma, I am Romanian living in Dubai/UAE. My love for poetry started when I was just 9 years old, when I registered myself to some creative poetry writing group. It was a turning point for me as I started to discover the mysteries of the written word and its impact on the readers. Since that early age, I have always viewed writing poetry as the perfect medium which is able to depict profound unfathomable complexities of someone's life or life itself, to render into words that which is unsayable, that ineffable, which can be truly deeper than the language itself. Through my writings, as well years of readings, I always looked to seek something beyond that which was apparent to others! I was fascinated to see how different aspects of truth were transfigured by different emotions, how experiences were poetized. I pursued seeing beauty expressed in all forms of art, not just poetry; creating a "thirst" within me to explore more and more for the knowledge of the mystery beneath and beyond it, as a symbol of something greater and higher with its own power to immortalize the expressions over the years.

Youtube: http://www.youtube.com/channel/UCvjpEzx0_-IEhf2-JjBSIJw

Twitter: https://twitter.com/AncaMihaela16

Facebook: https://www.facebook.com/pages/Anca-Mihaela/317866078233812