Editor's Note: we welcome the return of Gary Beck a prolific poet who has been featured in many appearances here at Artvilla.com
'Contusions' is an unpublished poetry collection that explores the aches and pains we suffer from the assault of life. Gary Beck. See Bio below

i.
A Peculiar Country

A nation suffers
many setbacks
before dissolving
into the trash bin
of history,
for the long slide
into obscurity.
They occur at a critical time
when capitalism
has beggared the nation
and the paid spokespersons
delude the people
into voting for a man
who pledges to help the rich,
burden the dwindling middle-class,
punish the poor for being poor.
Yet millions of voters
support the candidate
committed to hurting them.

ii.

Imbalance

Extreme weather
brings storms, drought,
other disasters,
while unstable seasons
alter our psyches
and no longer leave us
singing in the rain.

iii.

Linkage

The thread of life
connects us all
in ways we rarely see,
but animal, vegetable,
striving, struggling
for existence
frequently intersect
not always benevolently,
causing fatal conflicts
that often result
in final departure.

iv.

Sick Minds

Confrontations rise across the world,
some into widespread warfare,
others in domestic violence,
few peacefully resolved.
People, nations, lose control
of basic sensibilities,
unable to negotiate
acceptable solutions
to conflicts of interest.

v.

Clash of Interests

America leads the fight
for free speech,
women's rights,
democracy,
against intolerant islam
unwilling to accept
other cultural values,
while China and Russia
hover like vultures
waiting to pick the carcass
of the declining West
after exhaustion
from the struggle
to do right.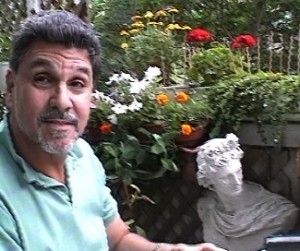 Gary Beck has spent most of his adult life as a theater director, and as an art dealer when he couldn't make a living in theater. He has 12 published chapbooks and 2 accepted for publication. His poetry collections include: Days of Destruction (Skive Press), Expectations (Rogue Scholars Press). Dawn in Cities, Assault on Nature, Songs of a Clerk, Civilized Ways, Displays, Perceptions, Fault Lines, Tremors and Perturbations (Winter Goose Publishing) Rude Awakenings and The Remission of Order will be published by Winter Goose Publishing. Conditioned Response (Nazar Look). Resonance (Dreaming Big Publications). Virtual Living (Thurston Howl Publications). Blossoms of Decay (Wordcatcher Publishing). Blunt Force and Expectations will be published by Wordcatcher Publishing. His novels include: Extreme Change (Cogwheel Press), Flawed Connections (Black Rose Writing), Call to Valor (Gnome on Pigs Productions) and Sudden Conflicts (Lillicat Publishers). State of Rage will be published by Rainy Day Reads Publishing, Crumbling Ramparts by Gnome on Pigs Productions. His short story collections include, A Glimpse of Youth (Sweatshoppe Publications) and. Now I Accuse and other stories (Winter Goose Publishing). His original plays and translations of Moliere, Aristophanes and Sophocles have been produced Off Broadway. His poetry, fiction and essays have appeared in hundreds of literary magazines. He currently lives in New York City.






Robin Ouzman Hislop is Editor of Poetry Life and Times his publications include All the Babble of the Souk and Cartoon Molecules collected poems and Key of Mist the recently published Tesserae translations from Spanish poets Guadalupe Grande and Carmen Crespo visit Aquillrelle.com/Author Robin Ouzman Hislop about author. See Robin performing his work Performance (Leeds University) .