Ovahnight success?!

In many cases wen you investigate
dats really not how it is.

Sometimes people
go on wun long Odyssey

just to get to wheah
dey eventually get to.

If your life isn't short
it's going to be filled

wit intensity and struggles

dat you could nevah have imagined
or even foreseen.

Flamethrowers will try to burn you
and bullets will try to pierce you

as exploding shrapnel
violently flies above your foxhole.

As foa me
I'm fixing my bayonet to my rifle
and getting ready
to advance my continuous charge.

It's my "Battle of the Bulge"

but unlike da Germans
I'm going to break through.

It's good to have
dat ancient warrior spirit

dat seeks to prevail
just like Odysseus traveling back home.

I'm about to cast off my hood
and beggar's rags

to bend and string da bow

and send wun arrow
streaking through holes in upright axes.

Results and actions

will take care of my critics
and naysayers.

Keep da faith Penelope

cause any determined dynamo
certainly will.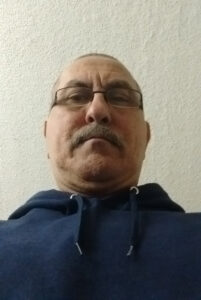 Joe Balaz writes in Hawaiian Islands Pidgin (Hawai'i Creole English) and American English. He is the author of Pidgin Eye, a book of poetry.The book was featured in 2019 by NBC News for Asian Pacific American Heritage Month, as one of the best new books to be written by a Pacific Islander.

In July, 2020, he was given the Elliot Cades Award for Literature as an Established Writer. It is the most prestigious literary award given in Hawai'i.

Balaz presently lives in Cleveland, Ohio.








Robin Ouzman Hislop is Editor of Poetry Life and Times at Artvilla.com ; his publications include

All the Babble of the Souk , Cartoon Molecules, Next Arrivals and Moon Selected Audio Textual Poems, collected poems, as well as translation of Guadalupe Grande´s La llave de niebla, as Key of Mist and the recently published Tesserae , a translation of Carmen Crespo´s Teselas.

You may visit Aquillrelle.com/Author Robin Ouzman Hislop about author. See Robin performing his work Performance (University of Leeds)